Louise "Floogie" Woodham Kelley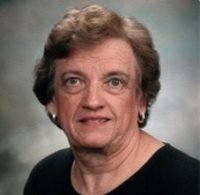 June 27, 1039 – September 5, 2017
Mamie Louise Woodham Kelley, "Floogie" or "Miss Floogie" to those who knew her well, departed Kelleytown for Heaven Tuesday afternoon August 5, 2017. She was born in Lee County as summer began- June 27, 1939 to the late John Wesley Woodham and Ruth Mozingo Woodham. Funeral services be held at 4:00 pm Friday, September 8, 2017 at Kelleytown Baptist Church.
The Rev. Rod Elliott will officiate with burial in the church cemetery. The family will receive friends from 5:00 pm – 7:00 pm on Thursday at their home, 820 Tema Rd.
"Floogie" attended school in Bishopville, graduated from Coker University, and enjoyed careers in business and education having taught at West Hartsville Elementary. She worked joyfully at her church in numerous ways for a number of years. Her contributions to the greater community include service through Samaritan's Purse, Hartsville Heritage Foundation, The Coker University Board of Visitors, and The Pee Dee Electric Board of Trustees.
"Floogie" was preceded in death by her parents, her husband Robert Sidney Kelley, and her brother Wes Woodham.
She leaves behind a daughter and son-in-law, Beth and Dan Abernathy of Florence; a son and daughter-in-law, Bert and Jill Kelley of Hartsville and four grandchildren she lived to dote on- Annie Abernathy of Pittsburgh, PA, Amelia Abernathy of Florence, Lindsey Kelley and Mason Kelley of Hartsville.
She is also survived by many sisters -in-law and brothers-in-law as well as a bounty of nieces, nephews, great nieces, and great nephews.
Brown-Pennington-Atkins is serving the family.