Jean "Jeannie" Singleton Floyd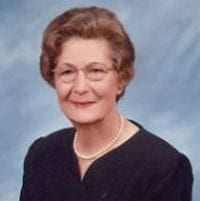 August 21, 1926 – August 28, 2017
Jean Singleton Floyd "Jeannie", 91, passed away Monday, August 28, 2017 at Conway Medical Center.
The youngest of five children, Jeannie was born August 21, 1926 in Bucksport, SC to Benjamin Franklin Singleton and Floride Brakefield Singleton. After several months, the family moved to Conway where Jeannie had a wonderful childhood following her 4 older siblings around. They were Joseph Benjamin Singleton(Jean McNeil), James Francis Singleton (Rosemary), Edward Marion "Dick" Singleton (Pat Durant), and Elizabeth "Betty" Singleton McKinnon (John). Jeannie graduated from Conway High School in 1943 and then graduated from Coker University in 1948.
On August 11, 1948 Jeannie married Eugene Cater Floyd who died in 2000. Jeannie is survived by three children, Catherine Floyd Beverly (Randy), Eugene Cater Floyd, Jr. "Gene" and Elizabeth Floyd Marsh (Bill), all of Conway. Jeannie is also survived by five grandchildren, Rebecca Elizabeth Beverly, Forrest Brakefield Beverly (Katherine), Sarah Daniel Marsh, Erin Elizabeth Marsh and William Cater Marsh. Great grandchildren are Kate and Reeves Beverly.
Jeannie was a charter member of the Ivy Garden Club elected to serve as the first president. She was a charter member of the Tuesday Bridge Club started in 1947. She was a dedicated and active member of the Kingston Presbyterian Church, singing in the choir for over 62 years. She was a member and past president of the Women of the Church and served as a teacher of Sunday School and Bible School. Jeannie taught school in the Horry County School District for 28 years. She was a member of the teaching sorority, Delta Kappa Gamma. She loved to work in her yard during her free time.
Funeral services will be held at 11:00 AM Thursday, August 31st, 2017 in Kingston Presbyterian Church, with the Pastor Rhett Talbert and Rev. Dave Rickert assisting with the service. The family will receive friends following the service in the Fellowship Hall. Interment will take place in Singleton Cemetery at 2:00 PM. Memorials, in lieu of flowers, may be made to Kingston Presbyterian Church, 800 Third Avenue, Conway