Lillian McLeod Youngblood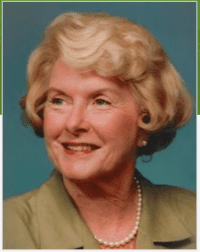 Mrs. Lillian "Lil" McLeod Youngblood, formerly of Winfield Blvd. SE, passed away Tuesday, January 7, 2020 at Tucker Hospice House A memorial service will be 2 PM Friday at First Presbyterian Church officiated by Rev. Lynne Keel. The family will receive friends following the service in Fellowship House.
Lillian was born January 16, 1927 in Hartsville, SC to the late R.R. McLeod and Sue DesChamps McLeod. She was also preceded in death by her husbands, Dr. Vernon Youngblood and Pete Partridge, daughter Jane Youngblood, and two sisters and one brother. Lillian was a graduate of Coker College and Duke University. She was a homemaker Lillian is survived by children, F. Marcus "Marc" Youngblood of Raleigh, William "Bill" R. Youngblood and wife Terry of Gainesville, GA, and Elizabeth "Beth" Y. Griffin and husband Tom of Charlotte; grandchildren, Bryan, Elizabeth, Ellie, Katie and Sussie; great grandchild Harrison; and a number of extended family members.
Memorials may be made to First Presbyterian Church, PO Box 789, Concord, NC 28026.