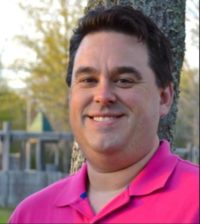 Outstanding Young Alumni Award 2016
Kenneth P. Lewis, Coker University class of 2001, has been named the 2016 recipient of the Coker University Outstanding Young Alumni Award. This prestigious award is given annually by the Coker University Alumni Association. It is presented to a graduate of the past 20 years who has already made significant achievements in his or her chosen profession and who shows exceptional potential for future accomplishments.
Lewis graduated with a B.S. in medical technology from Coker University and McLeod Regional Hospital School of Medical Technology. He continued his education and received a Master of Public Health from Florida International University. Currently, Lewis works as a senior immunology technical consultant with Alere Inc., a global diagnostic device and service provider. He is also the Owner of KPL Consulting, where he works with laboratory management, quality assurance, regulatory compliance and training. In addition, he is currently attending Andersonville Theological Seminary.
"Kenneth's achievements—academically and professionally—since his time at Coker made him a clear choice as our Outstanding Young Alumnus for 2016," said Carol Atkinson, president of the Coker University Alumni Association. "We look forward to following Kenneth's future achievements."
Prior to his current position with Alere, Lewis served as a medical technologist at several medical centers. He has also served on the South Carolina HIV/STD Conference Planning Committee and the South Carolina HIV/AIDS Council, and is active in his church. He has certifications as a Six Sigma Black Belt Professional and as a Change Management Specialist. He resides in Pageland, SC, with his wife, Joanna.