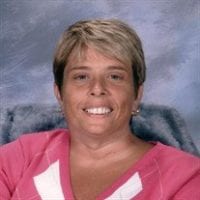 A funeral service for Ms. Kelly Catherine Johnson, 50, who entered into rest on Thursday, April 29, 2021, will be held at 4 o'clock on Saturday, May 1, 2021, in McBee Presbyterian Church. The Rev. Mark Dickinson will officiate with burial to follow in McBee Cemetery. The family will receive friends in the Fellowship Hall one hour prior to the service. Brown-Pennington-Atkins Funeral Directors are caring for the family.
In lieu of flowers donations may be made to McBee Presbyterian Church, 10 South 5th Street, McBee, SC 29101.
Kelly died on Thursday at her home in McBee, SC. She was born on September 12, 1970, in Lancaster, SC to Darrel Johnson Sr. and Judy Rhoad Johnson. She was preceded in death by her mother, Judy Johnson.
Kelly graduated from McBee High School and went on to receive a B.S. in Social Work from Coker College in 2008. She worked at Vocational Rehabilitation in Hartsville for many years until the pandemic.
Ms. Johnson is survived by her father, of the home; brother, Les (Angie) Johnson of McBee; sister, Kim (Billy) Morris of McBee. Her beloved nieces and nephews; Jeremy Johnson of McBee, Darcy Johnson of Burlington, North Carolina; Jackson Morris and Lindsay Morris of McBee; Additionally, a host of aunts, uncles, cousins, and friends.
Kelly was an active, life-long member of McBee Presbyterian Church and active in her community. She will be remembered for her zest for life, quick wit and fierce, passionate love for family and friends.