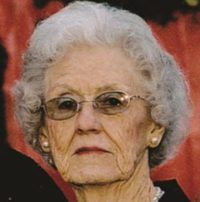 May 2, 1927 – January 22, 2018
Funeral services for Kathryn Watkins Hill, 90, will be held at 2:00 pm Saturday, January 27, 2018 at Antioch Baptist Church with a private burial in the church cemetery. The family will receive friends from 1:00 pm until 2:00 pm prior to the service at the church. Brown-Pennington-Atkins Funeral Home is serving the family. Memorials may be made to the Antioch Baptist Church, 1121 Bethlehem Rd., Hartsville, SC 29550.
Mrs. Hill died peacefully on Monday, January 22, 2018. Born in Hartsville, SC, she was a daughter of the late George Leon and Nan Howle Watkins. She was a member of Antioch Baptist Church and was a graduate of Antioch High School and Coker University. She was a teacher and librarian for many years in Darlington County and was a former member of the Darlington County School Board.
Surviving are her daughters, Kathy H. Abele of Hartsville, SC, Doris H. (Stephen) Rabon of W. Columbia, SC; grandchildren, Jennifer (Chris) Wright and Kyle Rabon of W. Columbia, SC; great-grandchild, Beau Watkins Wright; brother, George (Elizabeth) Watkins Jr. of Hartsville, SC.
She was preceded in death by her husband, Thomas E. Hill.
The family would like to express their gratitude to caregivers, Dorothy Joyner, Hester Antrum, and Jackie McClain.