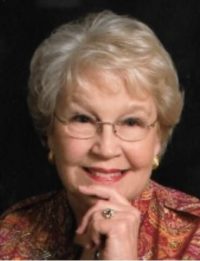 February 9, 1041 – June 5, 2018
Katherine Lee "Kitty" Nobles, 77, former resident of Gatewood Drive, widow of Jon Nobles, died Tuesday, June 5, 2018 at Colonial Gardens Center in West Columbia.
Born in Greenville, February 9, 1941, she was a daughter of the late James D. and Marion Symmes Kirby. Mrs. Nobles received her Bachelor of Arts Degree in Elementary Education from Coker University and Masters in Education from the University of Virginia. She retired from Oglethorpe University in Atlanta as Director of Career Placement.
A member of First Presbyterian Church in Greenwood, Mrs. Nobles also served as past President of the Coker University Alumni Association and a former member of the Coker University Board of Directors.
She is survived by her three children, Mark B. Eubanks, IV (Jennifer) of Sarasota, FL, Greta Severs (Pat) of Nashville, TN and Katherine Seigler of Columbia; four grandchildren, Will Seigler and Kirby Seigler both of Columbia, and Luke Severs of Nashville, TN and Mark Eubanks, V of Sarasota, FL; a brother-in-law, Frank Lawrence a nephew, Kellar Lawrence, both of Greenwood. She was predeceased by a sister, Peggy K. Lawrence.
Graveside services will be conducted at 2:00 PM Friday in Edgewood Cemetery with Dr. J. William Harris officiating.
The family will receive friends immediately following the graveside service at the home of Kellar Lawrence, 321 Gatewood Drive, The Gates C3, in Gatewood.
Memorials may be made to Alzheimer's Association, 140 Stoneridge Dr #210, Columbia, SC 29210.