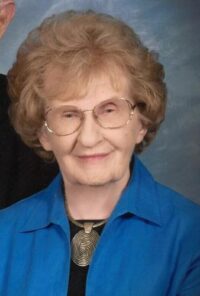 Jo Mathis Pinner passed away peacefully, surrounded by family on Thursday, September 8 at the age of 96. Jo (most know as "Meema") will be remembered for her radiant smile, warm disposition, and enthusiasm for conversation.
Jo was born in Edgefield county South Carolina on September 29, 1925 to Daniel Tucker Mathis Jr. and Minnie Lanham Mathis. She attended Coker College where she received her bachelor's degree and later graduated from the University of North Carolina at Chapel Hill with a master's degree in history. Jo was a natural-born educator and would go on to teach primary and high school.
It was at UNC where Jo met her beloved husband of 68 years, Howard Melton Pinner Jr. Howard and Jo married August 16, 1947 and soon after started a family in North Augusta, South Carolina. Howard's career in textiles moved them across the south where they finally retired in Black Mountain, North Carolina.
Jo enjoyed reading poetry, gardening and doting on her seven grand and ten great grandchildren. Jo was also an active member of the First Baptist Church of Asheville where she cherished the senior fellowship and music ministry. Her favorite time of year was the holiday season where she looked forward to catching up with family members over a hot cup of coffee in front of the fireplace.
Jo Pinner was one of four children and is preceded in death by her husband, Howard Melton Pinner Jr. and her daughter, Joanne Marie Pinner Smith. She is survived by three children: Daniel Howard Pinner (Linda), Julian Lee Pinner (Francis), Loree Joyce Olsson (Douglas), seven grandchildren and ten great grandchildren.
A Memorial Service is planned for Saturday, May 6, at 11:00 a.m. at First Baptist Church in Asheville, Dr. Mack Dennis, officiating.
Jo's final resting place will be with Howard at the Black Mountain State Veteran's Cemetery. Groce Funeral Home on Tunnel Road is assisting the family.
Published by Groce Funeral Home – East Asheville on Apr. 12, 2023.