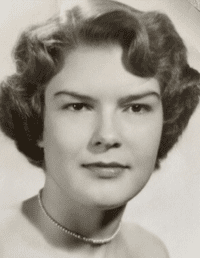 The world lost a beloved wife and mother on July 28, 2021. Jeans Willistine Small or "Willis", as most people called her, was born on August 7, 1933 to James P. and Annabelle (Collins) Grainger in Horry County, South Carolina.
She grew up on a farm and even though there was much hard work to be done, she still had so many wonderful memories of her childhood with her loving parents, her grandmother and two younger sisters. Willis graduated from Floyds High School and attended both Coker College and the University of South Carolina.
She married her childhood sweetheart and love of her life, Frank Small, on September 3, 1955 at Pleasant View Baptist Church and thus began her greatest adventures. She married an officer in the United States Air Force and they left South Carolina to explore the world.
Willis became the ultimate officer's wife. She extended her legendary hospitality to everyone, her family, friends and even strangers. She loved celebrating holidays, birthdays and promotions with her wonderful cooking and flower arranging. Willis also loved to travel and she and Frank lived in many places including Morocco, Panama, Turkey, Japan and multiple stateside bases.
She embraced each new assignment with a great attitude and quickly learned local customs and traditions. She loved cooking, arranging flowers, decorating her home, reading, collecting sea shells, growing orchids and spending time with family and friends. Willis said "My life has been a lovely journey."
Willis was immensely proud of her family and leaves nothing behind but beautiful memories. She is survived by her husband Frank, daughter Katrina McBride and husband Ken, son Curt Small and wife Sherri, granddaughters Kate Vahlberg and her husband Bryan, Kellie Smith and her husband Will, grandsons Matthew Small and Ryan Small, and great grandchildren Annabelle and Henry Vahlberg, two sisters, Rebecca Collins and Linda Graham and numerous nieces and nephews. We will each remember Willis saying "I love you a bushel and a peck and a hug around the neck."
In lieu of flowers, memorial contributions may be made to First Baptist Church, 211 W. Comanche Street, Norman, OK 73069 or to Pleasant View Baptist Church, 6190 Pleasant View Church Road, Nichols, South Carolina 29581.
A celebration of life will be held at 11:00 am on Wednesday, August 11, 2021, at First Baptist Church. The service will be recorded and streamed online and memories and condolences may be shared at www.tribute.care.