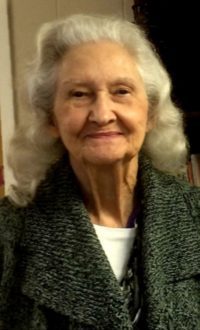 Jeanene Locklear Leonard, 86, of Myrtle Beach, S.C., passed away at Grand Strand Medical Center in Myrtle Beach, S.C. on   October 25,2021.
Jeanene was born on September 19, 1935, in Lumberton, N.C. to the late Burney Locklear, Sr. and Edith Lowry Locklear.
Jeanene graduated from Coker University, University of Greensboro and attended East Carolina University.
She married the former James Olin Leonard on April 20, 1957 and was married for 54 years.
Jeanene taught in the school system for over 30 years in N.C. She touched the lives of many as a mother, grandmother, educator, and school guidance counselor. She was a source of inspiration and blessing to her family and those who really knew her. She offered life lessons as a parent and grandparent and ran a Christian home.
The lessons she taught will be long remembered and highly valued by all whose lives she touched. She was a wonderful cook.
She enjoyed collecting cookbooks and preparing fresh vegetables, breads, cakes, pies and homemade ice cream. Her love for her family, church and community was like no other.
She was a member of the Halifax United Methodist Church in Halifax, N.C. She attended First United Methodist Church in Pembroke, N.C.
Surviving are Kaulua Jeanelia Edwards and her fiancé William Godwin of Pembroke, N.C., James Joburn Leonard, and his wife Teresa, of Myrtle Beach, S.C and Jamee Jo-Lynda Dickens and her husband Mark, of Greenville, N. C. She had seven beautiful grandchildren, Gary Carroll Jr., who preceded her in death, Daniel Carroll, Clarissa Edwards, Brittany Edwards, Stephen Edwards Jr., Brinley Dickens, and Rylan Dickens. and three great- grandchildren Chloe Carroll, Lucas Salvemoser, Riley Salvermoser and Caleb Harris.
Graveside services will be held Friday, October 29, 2021, at 2:00 P.M. at Halifax United Methodist Church Cemetery. The family will receive friends from 11:00 – 12:30 P.M. at Hockaday Funeral and Cremation Service.
Memorials may be made to Halifax United Methodist Church, PO Box 365, Halifax, NC 27839.