James Earl Revels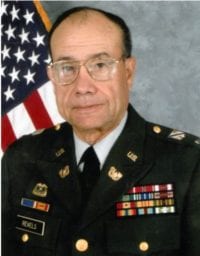 Chief Warrant Officer 5 (R), James E. Revels (Jim) died on December 10th, 2018 at Rice Estate, Columbia, SC. Born in Fairmont, NC on August 24th, 1935, he was a son of the late Leola Revels and Gus Hunt. As a Lumbee Indian, Jim grew up in Robeson County, North Carolina where he attended public Indian schools, graduating from Fairgrove High School in 1953. In 1958, he entered the U.S. Army and served one tour in Korea, two tours in Vietnam and five tours in Germany. He was appointed as a Warrant Officer in 1969 and served in the Quartermaster Corps. In 1972, he married his beloved wife, Susan Mary Revels (nee Bishop) of Bristol, England. 'Chief' Revels served very honorably for 37 years in various positions, including Director of the Supply School at Fort Jackson and Director of the Warrant Officer School at Fort Lee. Among his awards and decorations are the Legion of Merit, the Meritorious Service Medal and the Army Commendation Medal.
CW5 Revels was a Distinguished Member of the Quartermaster Corps and was inducted into the Quartermaster Hall of Fame at Fort Lee, VA. He held degrees from Troy University and Coker University. Jim was very active in the Yorkshire Neighborhood Association in Columbia, serving as President of the Association several times and was a member of the Columbia Council of Neighborhoods. He served on several City committees where his personnel expertise was used; in selecting a new Chief of Police and helping to decide on future City neighborhood improvements. Mr. Revels was a member of Greenlawn Baptist Church where he was a Chairman of Deacons, Church Moderator and served on several committees. He was also a member of the MOAA.
James was predeceased by his parents, brothers, Robert Revels and Bobbie Revels; and is survived by his loving wife, sisters, Mary Frances Hunt and Agnes Chavis, brother, Charles Revels, sister-in-law, Frances Parrett of Keynsham, UK and many nieces and nephews.
Jim was a loved and respected father to his daughters, Kathy DeCesare (Carmen) of St. Petersburg, Florida, and Tammie Singleton (Robert) of Columbia, and to his sons, Richard Revels (Maria) of St. Louis, MO and James E. Revels, Jr. of Leesville, LA.
He was an adored Papa to eleven grandchildren, DJ Garrett (Hilary), Roni Bliss (Todd); Mary Caitlyn, Madison, Mackenzie and Ian (Caitlyn) Singleton; Katie, Alexander and Angelina Revels; and Benjamin Leblanc and Laurel Revels.
As well as spending time enjoying the company of his children and grandchildren, the 'Chief' used his spare time to enjoy our world, playing golf and fishing, even hunting for edible fungi to use with his legendary cooking, barbecuing delicious meals and baking wonderful cakes.
When illness struck and over years Jim lost his independence and mobility, he bore his condition with fortitude and courage.
The family wishes to thank both the Rice Estate and the Lutheran Hospice for the tremendous care Jim received at their hands.
Chief Warrant Officer 5 Revels' Celebration of Life will be held at 12:30 p.m. Thursday, December 13, 2018 at Greenlawn Baptist Church, with burial to follow in Fort Jackson National Cemetery. The family will receive friends prior to the service in the Sanctuary at the church.
Memorials may be made to AFTD (The Association for Frontotemporal Degeneration) or to Greenlawn Baptist Church. Dunbar Funeral Home, Devine Street Chapel, is assisting the family. Memories may be shared at www.dunbarfunerals.com.