Irene Jones Bass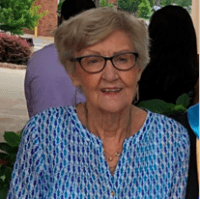 October 8, 1925 – October 15, 2018
Private graveside services for Mrs. Irene Jones Bass, 93, will be held in the Bass Family Cemetery. The family will receive friends from 2:00 p.m. until 4:00 p.m. on Thursday, October 18, at the residence, 3055 Timrod Rd., Bethune, SC 29009. Brown-Pennington-Atkins Funeral Home is serving the family. Memorials may be made to Bethune Baptist Church, PO Box 326, Bethune, SC 29009.
Mrs. Bass, widow of Ernest T. Bass, Jr., died peacefully on Monday, October 15th, 2018 . Born in Bethune, SC, she was a daughter of the late Carroll W. and Ethel Munn Jones. She was a member of Bethune Baptist Church. She was an avid reader and enjoyed sewing. She loved spending time at home with her family especially her grandchildren.
Surviving are her daughters, Carol Bass (Rodney) Sutton of Columbia, SC, Diane Bass (Andy) Walker of Lancaster, SC, Cathy (Charles) Sayer of Greenwood, SC; grandchildren, Jason Sutton, Elizabeth Sutton, Abbey Walker, Kelly Walker, Haley Hardman, Charlie Sayer, Lucas Sayer, Kathryn Rockey, Kennedy Spangler, Greyson Spangler; great-grandchildren, Emma Sutton, Lily Sutton, Harper Rockey; sisters-in-law, Lydia Jones, Judy Jones.
In addition to her husband, she was preceded in death by her daughter, Robin Bass Spangler; brothers, Kenneth Jones, Delton Jones.