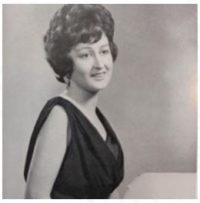 Ida Jane Pace Storrs, 78, of Columbia, passed away Tuesday, June 19, 2018 at Grand Strand Medical Center in Myrtle Beach. She was born at her home in Nichols on December 30, 1939, a daughter of the late Lois Parker Martin Pace and Averitt Burney Pace, Sr. In addition, to her parents, she was preceded in death by her late husband, Niles Clair Storrs.
Ida attended Nichols Elementary School and was a graduate of Mullins High School. She then attended and graduated from Coker University in Hartsville. After graduation, she was on the Coker Board of Visitors and also served on the Alumni Cookbook Committee. She was instrumental in organizing a Tropical Theme Reunion, where the girls attending the reunion decided to name themselves the "Coker Nuts".
Ida was employed by and retired from the American National Red Cross where she served military families and also worked with disaster relief. She enjoyed painting, scrapbooking, art, stamping art and gardening.
Ida is survived by her brother and sister-in-law, Averitt "Butch" Pace and Jeanette Drew Pace of Myrtle Beach and formerly of Nichols; her niece, Anna Martin Pace Iskandar of Jupiter, Florida; a great-niece, Sophia and her loving canine companion, Archie.
The family will receive friends from 1:00 until 2:00 p.m., Saturday, June 23, 2018 at Nichols Baptist Church on North Main Street in Nichols. Funeral services will follow the visitation at 2:00 p.m. in the sanctuary of the church. Burial will be at Riverside Cemetery in Nichols. Ida is in the care of Meares Funeral Home of Mullins.
If you would like to remember Ida, the family suggests that memorials be made in her memory to Nichols Baptist Church WMU, P.O. Box 148, Nichols, South Carolina 29581.
An online guestbook is available at www.mearesfh.com.