Felicia Brown McElveen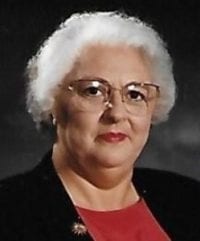 Felicia Brown McElveen went to her Heavenly home on Wednesday, January 6, 2021. She was 89.
Mrs. McElveen was born October 19, 1931, in the Florence County community of Bethel, spent her childhood in Olanta, but lived most of her life in Lake City. She was the daughter of predeceased parents Preston Capers Brown and Felicia Hicks Brown and sister to two brothers, Chaplain Colonel P.C. Brown Jr. and Wilbur Boyd Brown. She was married for 57 years to R. L. 'Red' McElveen until his death in 2011.
Mrs. McElveen was a 1953 graduate of Coker College in Hartsville, SC. She loved to travel and for many years took busloads of friends all over the 50 United States and the provinces of Canada, as well as groups on international trips abroad. She was a faithful member of Lake City First Baptist Church and made sure her daughters were raised in the knowledge of Jesus Christ as their Savior, also. Even while at an assisted living facility these last few years, she continued watching her beloved USC Gamecocks play football on TV and sponsored musical concerts for all residents to enjoy.
She is survived by two daughters: Deborah (David and son Hudson) Beard of Spartanburg, SC, and Sharon (Jerald and daughter Joye James) Altman of Lake City, SC; a sister, Catherine Brown Lee of Lumberton, NC. She deeply loved her nephews and nieces, great-nephews and nieces, and loved Maryse Garrett Davis like a granddaughter.
Deborah and Sharon wish to thank the many who loved and cared for her as their 'other mother' while in assisted living. Mrs. McElveen loved them as her extended family.
The family will have a private burial at the Lake City Memorial Park.
Memorials can be made to either Lake City First Baptist Church (P.O. Box 820, Lake City, SC 29560) or Coker College (Advancement Office, 300 E. College Ave, Hartsville, SC 29550).
The family would treasure your comments made through the online guestbook at www.carolinafuneralhome.net.