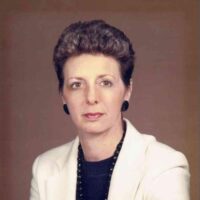 Elsie Rebecca Bennett, 87, of Princeton, Texas, entered into God's kingdom on May 30, 2023. She was born March 28, 1936 to Evelyn Kirkland and Albert Derrell Bennett.
Rebecca, a loving and devoted mother and grandmother, is survived by her children, Evelyn Abbott (Doug) of Princeton, Texas; William Jackson (Elizabeth) of Darlington, SC; her favorite person in the world, her grandson, Michael Abbott; and numerous nieces and nephews. She was preceded in death by her four older siblings: Rea Bennett Hedgecock, A.D. "Sonny" Bennett, Jr., Frederick L. Bennett, and Burton K. Bennett.
Upon graduation from Eau Claire High School, Rebecca attended Coker College in Hartsville, SC. She married Larry Jackson, and they resided in Florence, SC where she was a faithful and loving wife and mother. She was a devoted member of Central United Methodist Church for many years until her move to Bunn, NC. When she resided in Columbia, SC and Princeton, Texas, she took her love for God with her in all moves and found a church home wherever she lived, but she had a special love for Bethel Methodist Church in Columbia, SC.
Rebecca was a stay-at-home mother while her children were young and entered the workforce in the 1980's. Always one with a gift for organization and attention to detail, she put these skills to great use in her roles with the Pearce & Pearce Agency, McLeod Human Resources, and the McLeod Foundation.
Being generous by nature, Rebecca was known for giving her time and resources. While living in the Pee Dee, not only did she serve in the Boy Scouts of America with her son, she continued her service for years thereafter. She also spent much of her time and organizational talents serving the local Republican Party. In fact, it has been said that she was instrumental in creating a viable Republican Party in Florence, SC. She also gave ongoing financial support to a local children's home in Columbia, SC even when she moved out of state.
Over the course of her life, Rebecca was known to be quirky, humorous, and for doing the unexpected. Whether it was wearing toe socks with flip flops, claiming exhaustion by simply watching her neighbor work arduously in the yard, or wearing roller skates one day at work because her boss kept her "on the move", she was always doing something that would make people chuckle and grin. Those who love her amusingly remember a time when parking her car on a particularly warm southern day, she rolled down all the windows and locked all the doors so that if it were stolen she could be sure to honestly answer, "Why, yes. It was locked." While proclaiming to be a vegetarian, those who knew her well also know that she would eat a hot dog in a heartbeat. As her health declined in recent years, she jokingly stated it was because of her "allergy to Texas." So whether it was in work, play, or life in general, Rebecca was sure to keep those around her smiling.
Elsie Rebecca Bennett will be forever remembered with affection as a loving mother, mother-in-law, and grandmother to her family, devoted to her friends, and the "favorite aunt" to numerous nieces and nephews.
A memorial service will take place and be announced at a later time. In lieu of flowers, donations may be sent to the Epworth Children's Home in Columbia, SC.
Published by Legacy Remembers on Jun. 9, 2023.