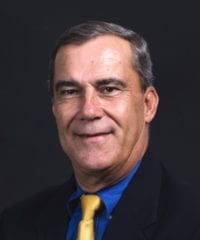 Dr. Steve Terry was a staple at Coker University and Coker Athletics since he joined the staff as an instructor in the physical education department and the second head men's basketball coach in school history in 1975. He has held various titles and positions including Head Baseball Coach (1975-76), Director of Athletics (1977-1990), Assistant Professor (1978-1987) , Department Chair in Physical Education, (1987),  Assistant Dean (1988-1990), Associate Professor (1988-2015), Vice President for Enrollment Management (1990-99), and Vice President for Student and Enrollment Services (1999-2014) and Vice President of Enrollment and Contract Services (2014-2015) and Director of Leadership and Entrepreneurship Initiatives (2015- 2016).  He also directed the Masters in College Athletic Administration Graduate Program during this time.
 For more than 40 years, Terry was a driving force behind the success of Coker whether as a coach, teacher, or administrator. He helped guide Coker athletics into their first national athletic affiliation in the NAIA, the first conference affiliation in the Carolinas Conference, and eventually into the transition from NAIA to NCAA division II. During his time as Director of Athletics and then as Vice President for Enrollment Management, the Cobra athletic teams grew from five  to 12, and has now expanded to the 22 intercollegiate athletic teams we have today. He also initiated the Cobra Club in the early 1980's with the primary purpose of supporting student athletes, coaches, and individual sports programs.  He also developed the Leadership and Entrepreneurship Advisory Committee (LEAC) that focuses on connecting local and regional business leaders with students through events and the curriculum with the executive roundtable.  
In addition, the growth in athletics during Terry's time at Coker, there was unprecedented growth in all areas of the university including enrollment, where the university saw increases and record numbers in both the day, evening school, and graduate program. During this time, the university added six additional residential facilities to accommodate the student growth. Dr. Terry was selected twice by the senior class as the Ronald S. Johnson Staff Person of the Year. Terry was named Staff Emeritus in 2016 by the Coker University Board of Trustees.
Dr. Terry developed meaningful relationships with hundreds of students during his tenure at Coker. He has maintained friendships and connections well past his retirement and continues to assist the alumni office with its alumni engagement activities by participating in Homecoming activities, hosting alumni zoom meetings, helping alumni remain connected via a Facebook page targeting graduates from 1970-beyond, and attending athletic and Cobra Club events.
In addition to his service to Coker, Terry has been a very active member of the community and region by serving on numerous Southern Association of Colleges and Schools, Commission on Colleges Visiting Re-accreditation committees. He has served on the South Carolina College Personnel Association Board, the Byerly Hospital Board of Trustees, the Hartsville YMCA Board of Directors, the Hartsville Chamber of Commerce Membership Committee, the Special Olympics Area III Board of Directors, and the Black Creek Wildlife District Committee. He also served as the Chairman and Vice-Chairman of the Carolina Pines Regional Medical Center Board of Trustees, President and Vice President of the Hartsville Outdoor Club, and as a Deacon at the First Presbyterian Church of Hartsville.
He has been married to Paula Hartman Terry for 44 years. They have two daughters, Rebecca Coleman and Katherine Pauli and granddaughters, Hannah and Maggie Pauli, and Mary Mac and Frances Coleman.  Steve and Paula reside in Hartsville.