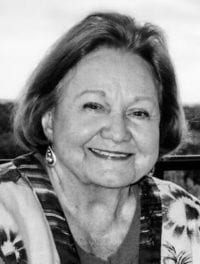 Doris Hopkins Bracey Green died peacefully on April 12, 2021 in her home surrounded by family and friends. Born in Bristol, VA, the eldest daughter of Evelyn Hayes and Ralph Edward Hopkins. Preceded in death by cherished children, Lisa, Robert and Michael Bracey, grandson, Knight Bracey and sister, Peggy Cross. Survived by son, David Bracey and his children, David, Jr., Wyatt, Samantha and husband, Lucas Pullium, great grand-daughter, Violet Pullium, daughter-in-law, Jo Bracey and her son, Main, grandson, Jason Sullivan, two sisters, Terry Stone and Pat Schierkolk and countless friends.
Her education included Sullins College in Bristol, VA, Coker College in Hartsville, SC and New School for Social Research in Manhattan, NY. She was co-founder of the Concept Shoe Co., Dallas, TX and partner in Conn Creek Winery, Napa, CA.
Doris moved to Memphis from Manhattan in 1996. In Manhattan, she was a member of the Metropolitan Opera Guild, Women's National Republican Club and served as chairman of its Real Estate Committee and was a honorary member of board of trustees of the Metropolitan Museum of Art. She was a faithful member of the Saint Thomas Episcopal Church. In Memphis, she was a member of Dixon Gallery and Gardens, Brooks Museum of Art, Decorative Arts Trust and former member of its board of directors and former member of the Memphis Woman's Club.
In addition to her grace and charm, she was a captivating storyteller whose vast network of friends and extensive travels provided interesting and very amusing stories that kept us always wanting more. Doris had a smile that lit up the room. Besides traveling and entertaining, she loved to cook and read, especially the New York Times and The New Yorker. She will be greatly missed! Memorial service arrangements are pending. Memorials may be given in her memory to a charity of the donor's choice.