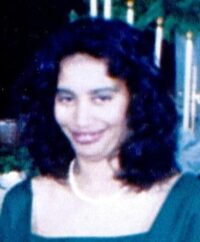 Cynthia Ann McCray
Pamplico – Cynthia Ann McCray, 55 of Pamplico, SC entered her Heavenly home on November 23, 2022 with her loving family be her side.
Ms. McCray was born September 2, 1967 in Florence County, a daughter of the late Jessie Mae Jones McCray and Marshall McCray, Sr. She is a graduate of Hannah-Pamplico High School, a graduate of Florence – Darlington Technical College with an Associate of Science in Criminal Justice and a graduate of Coker University with a Bachelor of Arts in History. She was an educator with Florence School District 2 Special Services Department in Pamplico, SC.
She was a devout Christian, an avid History and Literature scholar, an animal advocate, loved singing and dancing to Karaoke, Classic Rock and American Blues Music. Cynthia was passionate and intense about her interests. She was most expressive when engaging with others in dialogue relative to Current World Events, National Politics and Social Issues. Her hobbies were purchasing antique furniture for restoration, drafting blueprints for special home projects, nurturing the neighborhood pets and enjoying Sunday dinners at the family home. Understanding the critical need for Cancer Research Funding, she was a financial donor to the National Cancer Institute (NCI) along with a financial donor to St. Jude Children's Research Hospital. Her family will continue supporting Cancer Research in her memory.
Ms. McCray is survived by her siblings, Roy Lee McCray and his wife Vangie Baker McCray of Florence, SC; Marshall McCray, Jr. of Pamplico, SC; Sheila Ann McCray Harley and her husband Willie Levern Harley of Florence, SC;
Michelle McCray of Florence, SC and Mona Lisa McCray Andrews and her husband Billy Cuttino Andrews, III of Pamplico, SC; nephews, Brett Austin
McCray, Sr. and his wife Esmeralda Lizbeth Hernandez McCray of Florence, SC; Bobby Morgan Hall, Jr. of Florence, SC, Cameron Nathan Hall of Florence, SC and Chantz McDaniel of Florence, SC; great nephews and great niece, Master Brett Austin McCray, Jr., Master Bentley Ashton McCray and Brielle Elizabeth McCray of Florence, SC, whom she adored, enjoyed shopping for and were the anchor in her life; maternal aunt, Mary Lee Jones Nettles of Quinby, SC; paternal uncle, Frank Smalls of Florence, SC; Godmother, Mamie Lou Vereen Hyman of New Britain, Connecticut; God sisters Jamesetta Reid and Tonja Reid of Moncks Corner, South Carolina; Hannah-Pamplico High School Raider Class, Mrs. Dana Ann Holladay, Mr. Joey Lewis, students Peyton, Makayla, Robert, Noah, Jessica, Gauge, Trey and Tammy; and her beloved Siamese, Salem. Life-long family friends and neighbors, Mr. Alphonso Robinson Sr. and his wife Mrs. Patricia Barr Robinson and family of Pamplico, SC; Mrs. Lillian McCall Robinson and family of Pamplico, SC.
Maternal grandparents, Orie Bartell Jones and Johnny Jones, Sr. and paternal grandparents, Blanche McCray and Zollie McLeod McNeil predeceased her.
Pallbearers will be Frank Robinson, James Lee Fleming, Willis Timmons, King Timmons, John A. Guiles, Trey Woodberry, Reace Shird and Arturo Castaneda.
Honorary Pallbearers will be Dana Ann Holladay, Nelly Timmons, Cynthia White, Jamesetta Reid, Kimberly Kelly and Barbara P. Kennedy.
Funeral services will be held at 2:00 p.m., Sunday, November 27, 2022 at Waters-Powell Funeral Home Chapel, 400 South Dargan Street, Florence, SC followed by interment in Mill Branch African Methodist Episcopal Church Cemetery, 1917 North Old River Road, Pamplico, SC. The family will receive friends from 1:00 p.m. to 2:00 p.m. prior to the hour of service and other times at 1754 South Pamplico Highway, Pamplico, SC. Waters-Powell Funeral Home is assisting the family.
Published by SCNow on Nov. 26, 2022.