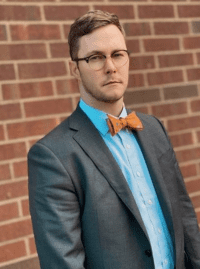 Christopher Matthew Ferguson, J.D., has been named Executive Director of the SC Education Oversight Committee (EOC). Ferguson's hiring was confirmed by a unanimous vote of the EOC at a regular meeting yesterday. Ferguson, who currently serves as the Director of Personnel for the Darlington County School District, is expected to begin work by Summer 2020.
On behalf of the Search Committee who interviewed the applicants, Subcommittee Chair Neil Robinson, Jr., recommended Ferguson's hiring from a pool of four Round 2 applicants. EOC Chair Ellen Weaver stated that the search committee was particularly pleased by the perspective Ferguson will bring to this work as a former classroom teacher in a more rural SC district.
"I'm confident that Matthew's sharp intellect, demonstrated initiative, and practical classroom insights will help chart a bright course both for the EOC's future and most importantly for that of South Carolina's students," stated Weaver. "His impressive academic credentials and broad range of experience in local educational leadership make him highly-qualified to lead the EOC's mission to report facts, measure change, and promote progress for every student."
A native of South Carolina, Ferguson earned a law degree, two master's degrees: one in Educational Leadership and one in Curriculum and Instruction with a literacy specialization. He also earned a bachelor's degree in Political Science and English Education. He is currently pursuing his Ph.D. in Educational Leadership.
Prior to becoming Director of Personnel in Darlington County School District, Ferguson was the District Curriculum Coordinator for the district. He also served as a Coordinating Teacher/Title 1 Coordinator and an English Teacher at Darlington High School. At the same time, he served as the Adult Education Site Coordinator, engaging non-traditional students through innovative lessons. He also served as a Fulbright Scholar for one year in Bali.
Weaver added, "I'd like to extend the EOC's gratitude to Dr. Rainey Knight for her steady leadership as Interim Executive Director during this period of transition. Her experience has been and will continue to be of great value to the EOC team."
Dr. Knight will continue to serve as Interim Director of the EOC until Ferguson assumes his new role with the committee.