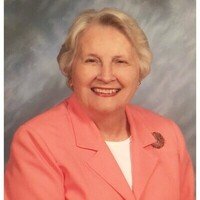 Betty Padgett Black, 93, died on Thursday, February 18, 2021 in Roper Hospital after a brief illness. She was an active member of Bethel Presbyterian Church where she served as an elder, member of the choir, and assistant treasurer. In 2019, she was bestowed the honorary title of Elder Emerita, for over 62 years of service, dedication, and commitment to her beloved Bethel Presbyterian Church. Mrs. Black was born in Walterboro, South Carolina on April 6, 1927, her mother's birthday. She was the wife of the late John Tarrant Black and the youngest daughter of Sheriff Lucas Carroll Padgett and Coralie Ackerman Padgett. A graduate of Coker College and the Medical University of South Carolina, she worked as a medical technologist and later as a third-grade teacher. She had a vivacious personality, was very popular amongst her friends, and received more "senior superlatives" than was appropriate for the size of her high school class. Although it seems trite – the first thing anyone would say to describe her was that she never met a stranger. She was an aficionado of life-long learning before it even had a name, and along with her late friend Anna Lou Marvin took many college classes in art and history at the University of South Carolina Salkehatchie-Walterboro campus, diligently completing every assignment and taking every test. She had many friends of all ages – but she and two of her lifelong, childhood friends, also named Betty, were affectionately known as the "three B's" (Betty Marvin Linder and Bettyline Pope Moylan).
Mrs. Black was a woman of many interests; she majored in music and loved to attend concerts and live operas shown in Charleston-area movie theaters. When clubs were active, she was a member of the Fine Arts Club, the Literary Club, the Daughters of the American Revolution, the Colonial Dames, Carleton's Book Club and the Colleton County Historical and Preservation Society. She was known for her quick wit and comebacks, always laughing first at her own words. She had no "screen," would say what she thought, and her children have been happy to hear how many people enjoyed her company. She volunteered with their scout troops and hauled them to every archaeological dig in the Lowcountry. All she and her husband insisted was that they always do their best. She will be sorely missed by all who had the pleasure to know her.
Mrs. Black was pre-deceased by her husband, The Honorable John Tarrant Black, and is survived by his sister, Beneva Black Ouzts of Columbia; four children: Carol Padgett Black of Alexandria, Virginia; John Tarrant Black, Jr. and wife Denise of Mt. Pleasant and Edisto Island (and their children Eva, Will (Shannon) and Gordon (Ellison); Nancy Black Skardon and husband Taylor of Charleston and Edisto Island (and their children Elizabeth, Frances and Padgett); James Benjamin Black II and wife Trish of Mt. Pleasant (and their children Caroline and Andrew); three great grandchildren, three nieces, two nephews, and many cousins – all of whom she loved dearly. She was also pre-deceased by her brother, Lucas C. Padgett, and two sisters, Lena Coralie Padgett and Nancy Padgett Bergmark.
The family would especially like to thank Mrs. Black's companions/caregivers: Bernice Perry, Cherie Van Dyke, Gladiola Holmes, Thelma Stephens, Jeannette Smith, Connie Johnson, and – for 20 years – Iola Allen. Additionally, they would like to express their deep appreciation to the congregation of Bethel Presbyterian Church led by their Pastor Henry Meeuwse and Mrs. Janis Blocker, Clerk of Session.
Due to COVID restrictions, the family will receive guests on the front lawn of Bethel Presbyterian Church from 1:00-2:45PM on Wednesday, February 24, 2021 before attending a private funeral service at 3PM which will be livestreamed on the church's Facebook page. Masks are required. Parker-Rhoden Funeral Home is in charge of the arrangements. Memorials may be made to Bethel Presbyterian Church in Walterboro, or Colleton County Meals on Wheels.