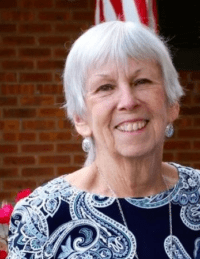 Mildred Ann McQuage Moody, 71, passed away, Saturday, January 18, 2020 at Morrison Manor in Laurinburg, NC.
Born May 22, 1948 in Bennettsville, SC, she was a daughter of the late James Lewis, Jr. and Mildred McDaniel McQuage. Mrs. Ann earned a BS Degree at Coker College and was a retired school teacher of 28 years with the Marlboro County Public Schools. She was a member of the First United Methodist Church, where she was a financial secretary, former chairman of the PPRC, a member of the Worship committee, and former MYF leader. Mrs. Ann was an Epworth Children's Home Sponsor for 8 ½ years and worked with the Salkehatchie Summer Service program for more than 20 years. She enjoyed playing Bridge with her group of friends "The Beach Babes" and was a huge Gamecock Fan.
She is survived by her husband, John Hugh Moody; sons, John Hugh Moody, Jr. (Heather) of Bennettsville, and David Patterson Moody (Leah) of Mt. Pleasant, SC; daughter, Kathryn McDaniel Moody of Atlanta, GA; brother, James Lewis McQuage, III of Sumter, SC; grandchildren, Ariel Makala Moody, Hailey Ann Carabo (Sam), Hannah Kathryn Moody, Hayden Patterson Moody, Jacob Cole Moody, Cameron Michael Moody, and Kaylynn Marie Moody; great grandchildren, Addison Belle Carabo and Rylie Olivia Moody.
She was preceded in death by her parents listed above and her sister, Kay McQuage Dillard.
A funeral service will be held at 11:00 a.m. Wednesday, January 22, 2020 at the First United Methodist Church, with burial in Hebron Cemetery. A visitation will be from 6 until 8 p.m. Tuesday, January 21, 2020 at Burroughs Funeral Home.
Memorials may be made to the First United Methodist Church, 311 East Main Street, Bennettsville, SC 29512.
On-line condolences may be made at www.bfhbennettsville.com.
Burroughs Funeral Home is honored to assist the Moody Family.