Center for Diversity, Interfaith, & Inclusion Education
THE CENTER'S MISSION
The mission of the Center for Diversity, Interfaith and Inclusion Education is to create a more inclusive campus where everyone feels welcome, safe and respected. This mission is based on the University's philosophy that, "At Coker, we affirm as the highest ethical principle the indestructible dignity of every human being. Furthermore, we believe that it is only by entering into community that a person can reach full human potential."
The Center is located in the Library – Information Technology Center, Room 118.
---
FEATURED EVENT: THE SOUL OF THE MOVEMENT
Dr. Martin Luther King, Jr. in Words and Music
April 4 – Moved to 6:00 PM
Learn more about the event:
The Soul of the Movement: Dr. Martin Luther King, Jr. in Words and Music is a commemoration of the legacy of Dr. Martin Luther King, Jr. and the 53rd anniversary of his assassination. It is also sheds light on the central role music played in King's life and on music inspired by his life and death. King's messages are just as relevant today as when he was alive. Wherever King delivered those messages, there was always music; whether in a protest rally, a church service, or the March on Washington for Jobs and Freedom. At the march, King's good friend, legendary gospel singer Mahalia Jackson, sang How I Got Over. King wrote later that the song set the tone for his speech. Precious Lord, Take My Hand, was his favorite song. One of the people with King at the Lorraine Motel the evening he was assassinated in Memphis, TN, on April 4, 1968, was jazz saxophonist Ben Branch. King biographer Taylor Branch (no relation to Ben) wrote that King's last words were spoken to Ben Branch. He asked Branch to play his favorite song at a mass they were going to attend that night. He is recorded as saying to Branch just moments before he was shot, "Ben, make sure you play 'Take My Hand, Precious Lord' in the meeting tonight. Play it real pretty." Jackson sang the song at King's funeral on April 9th.
In his 1964 book, Why We Can't Wait, King called spirituals, protest and freedom songs of the Civil Rights Movement "the soul of the movement." King also extolled the virtues of jazz and considered the idiom and the delivery of the art form "triumphant music." In an essay published in the program for the 1964 Berlin Jazz Festival, King wrote, "God has wrought many things out of oppression. He has endowed his creatures with the capacity to create, and from this capacity has flowed the sweet songs of sorrow and joy that have allowed man to cope with his environment and many different situations. Jazz speaks for life. The blues tell the story of life's difficulties, and if you think for a moment, you will realize that they take the hardest realities of life and put them into music, only to come out with some new hope or sense of triumph. "
It is in this spirit that Professor Mal Hyman, Bhakti Larry Hough and NewWorld Arts, and the Coker University Center for Diversity, Interfaith, and Inclusion Education present The Soul of the Movement: Dr. Martin Luther King, Jr. in Words and Music. The presentation will include recitations and readings from King's writings, speeches, and sermons. In addition to the words, The Bhakti Project music ensemble will perform music that comforted King and gave him strength when his heart was troubled, and music inspired by his work, legacy, life, and death.
Contact our staff!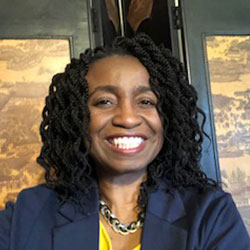 Darlene B. Small
Director of the Center for Diversity, Interfaith, and Inclusion Education
"I am a Hartsville native. I came to Coker to be the assistant director for off-campus programs (internships, study abroad, community service, career…
View Darlene's Profile
STUDENT DIVERSITY TRAINING
Coker University is committed to continuing to build a more inclusive campus where everyone feels welcome, safe, and respected. It is important that everyone takes part in our diversity training/education in order to promote a more supportive environment. Our faculty and staff are required to complete diversity and inclusion training and have already begun this journey. Students also play a very important role in creating a sense of belonging on campus. These videos and assessments will help you to reflect on and evaluate your ideas about diversity and inclusion. They may challenge you to think more about how you are receiving and interacting with others. We hope that they will also encourage you to be open minded and empathetic to the plight of all human beings in our community and the wider world.
EVENT ARCHIVE
February is Black History Month and a great opportunity to celebrate the many contributions African Americans have made in our local communities and state, to this country and to the world. The Center for Diversity, Interfaith and Inclusion sponsored several events in recognition of Black History.
March is Women's History Month and a great opportunity to celebrate the achievements and contributions of women throughout history. The Center for Diversity, Interfaith and Inclusion is sponsored several events in recognition of Women's History.
---
STUDENT ORGANIZATIONS
Coker University hosts a number of student organizations that bring people of affinity groups together. More organizations will be added to this page soon.
B.O.L.D. gives students a safe and inclusive space to discuss any challenges that are specific to being of color and/or being a college male student.
We are here to serve the persons of the university community, both in sharing the Gospel and providing various times of worship, fellowship, and informal Bible study in a
Christian
manner. Membership to BCM is open to all Coker University students, faculty and staff. The members do not need be of
Christian
faith, but a general desire to learn needs to be conveyed. Anyone who attends at least two events in the academic year will be considered a member. The privileges of being a member of BCM are that students have an opportunity to come together to worship and learn in a fun and inviting environment. Students with memberships are encouraged to attend meetings and participate in events.
The Circle of Sisterhood creates a safe space on campus for all women with a focus on women of color where students can be supported, and embrace their authentic self.
---
RESOURCES
---