CENTER FOR DIVERSITY, INTERFAITH, & INCLUSION EDUCATION
THE CENTER'S MISSION
The mission of the Center for Diversity, Interfaith and Inclusion Education is to create a more inclusive campus where everyone feels welcome, safe and respected.
Welcome To Coker University.
Here, It' s Your Story
—What Do You Want It To Say?
Campus Life programs are the best way to get involved in the Coker Community. The Campus Life Office consists of Residence Life, Student Activities, Judicial, Leadership, Orientation, Intramurals & Wellness.
An active, student-centered and integrated campus community is crucial to the mission of Coker University and Student Services. To achieve this goal, a comprehensive program of activities and services is provided which promotes students' success and which facilitates their intellectual, cultural, moral, and social growth. It is a primary goal that Coker University provide a challenging yet supportive environment in order that students can develop and achieve their potential and help them prepare for life after college.
add remove Learn more about the event

The Soul of the Movement: Dr. Martin Luther King, Jr. in Words and Music is a commemoration of the legacy of Dr. Martin Luther King, Jr. and the 53rd anniversary of his assassination. It is also sheds light on the central role music played in King's life and on music inspired by his life and death.  King's messages are just as relevant today as when he was alive.  Wherever King delivered those messages, there was always music; whether in a protest rally, a church service, or the March on Washington for Jobs and Freedom. At the march, King's good friend, legendary gospel singer Mahalia Jackson, sang How I Got Over. King wrote later that the song set the tone for his speech. Precious Lord, Take My Hand, was his favorite song. One of the people with King at the Lorraine Motel the evening he was assassinated in Memphis, TN, on April 4, 1968, was jazz saxophonist Ben Branch. King biographer Taylor Branch (no relation to Ben) wrote that King's last words were spoken to Ben Branch.  He asked Branch to play his favorite song at a mass they were going to attend that night. He is recorded as saying to Branch just moments before he was shot, "Ben, make sure you play 'Take My Hand, Precious Lord' in the meeting tonight. Play it real pretty."  Jackson sang the song at King's funeral on April 9th.

In his 1964 book, Why We Can't Wait, King called spirituals, protest and freedom songs of the Civil Rights Movement "the soul of the movement." King also extolled the virtues of jazz and considered the idiom and the delivery of the art form "triumphant music." In an essay published in the program for the 1964 Berlin Jazz Festival, King wrote, "God has wrought many things out of oppression. He has endowed his creatures with the capacity to create, and from this capacity has flowed the sweet songs of sorrow and joy that have allowed man to cope with his environment and many different situations. Jazz speaks for life. The blues tell the story of life's difficulties, and if you think for a moment, you will realize that they take the hardest realities of life and put them into music, only to come out with some new hope or sense of triumph. "

It is in this spirit that Professor Mal Hyman, Bhakti Larry Hough and NewWorld Arts, and the Coker University Center for Diversity, Interfaith, and Inclusion Education present The Soul of the Movement: Dr. Martin Luther King, Jr. in Words and Music. The presentation will include recitations and readings from King's writings, speeches, and sermons. In addition to the words, The Bhakti Project music ensemble will perform music that comforted King and gave him strength when his heart was troubled, and music inspired by his work, legacy, life, and death.
Contact Our Staff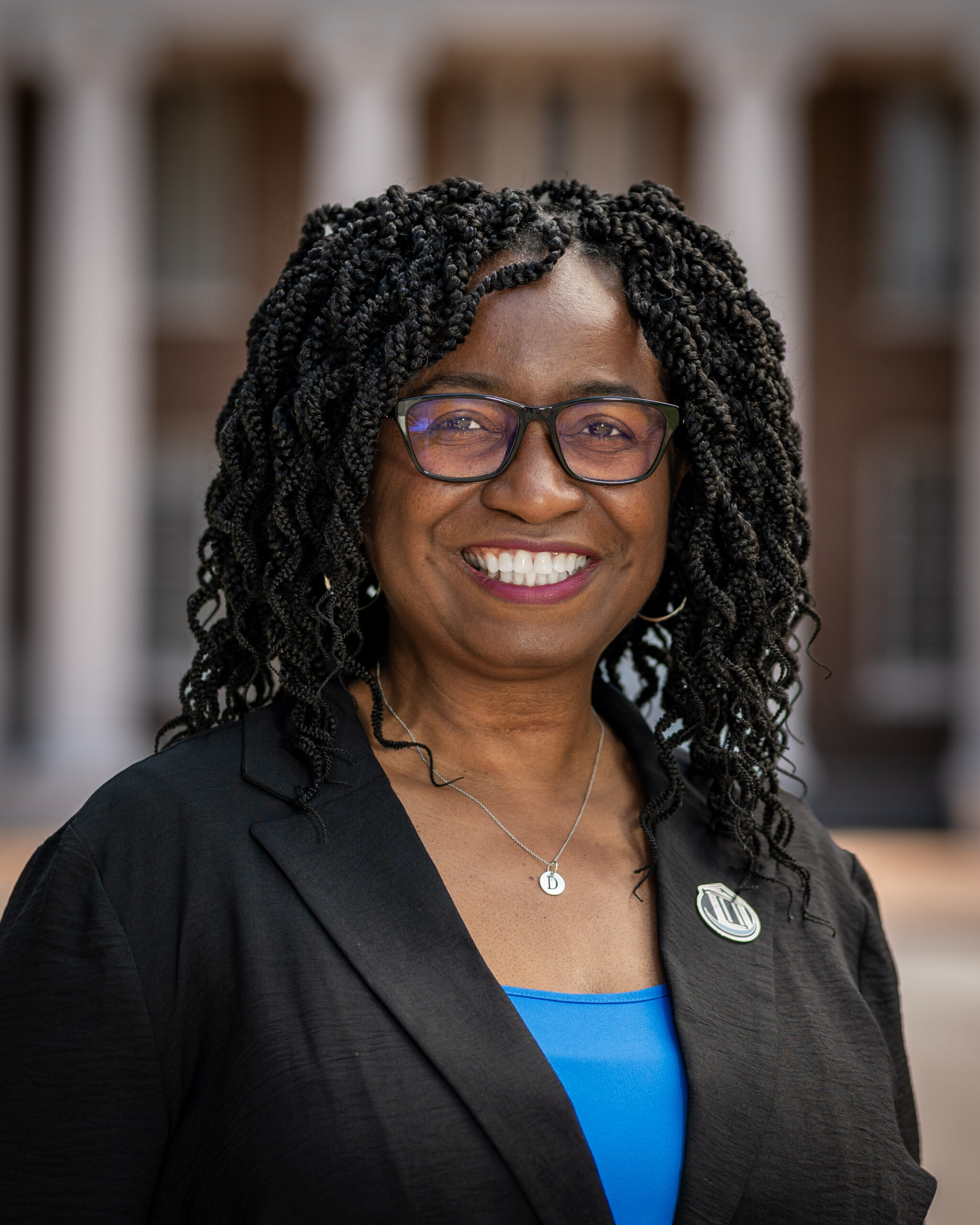 Darlene B. Small
Director of the Center for Diversity, Interfaith, and Inclusion Education
"I am a Hartsville native. I came to Coker to be the assistant director for off-campus programs (internships, study abroad, community service, career development). Coker makes a difference by responding to…
Student Diversity Training
Coker University is committed to continuing to build a more inclusive campus where everyone feels welcome, safe, and respected. It is important that everyone takes part in our diversity training/education in order to promote a more supportive environment.  Our faculty and staff are required to complete diversity and inclusion training and have already begun this journey.  Students also play a very important role in creating a sense of belonging on campus.  These videos and assessments will help you to reflect on and evaluate your ideas about diversity and inclusion.  They may challenge you to think more about how you are receiving and interacting with others.  We hope that they will also encourage you to be open minded and empathetic to the plight of all human beings in our community and the wider world.
Click Here To Start Your Training
Event Archives
add remove Black History Month 2021

February is Black History Month and a great opportunity to celebrate the many contributions African Americans have made in our local communities and state, to this country and to the world. The Center for Diversity, Interfaith and Inclusion sponsored several events in recognition of Black History.

add remove Women's History Month 2021

March is Women's History Month and a great opportunity to celebrate the achievements and contributions of women throughout history. The Center for Diversity, Interfaith and Inclusion is sponsored several events in recognition of Women's History.
Student Organizations
Coker University hosts a number of student organizations that bring people of affinity groups together. More organizations will be added to this page soon.
add remove B.O.L.D. Men

B.O.L.D. gives students a safe and inclusive space to discuss any challenges that are specific to being of color and/or being a college male student.

add remove BCM – Because Christ Matters

We are here to serve the persons of the university community, both in sharing the Gospel and providing various times of worship, fellowship, and informal Bible study in a Christian manner. Membership to BCM is open to all Coker University students, faculty and staff. The members do not need be of Christian faith, but a general desire to learn needs to be conveyed. Anyone who attends at least two events in the academic year will be considered a member. The privileges of being a member of BCM are that students have an opportunity to come together to worship and learn in a fun and inviting environment. Students with memberships are encouraged to attend meetings and participate in events.

add remove The Circle of Sisterhood

The Circle of Sisterhood creates a safe space on campus for all women with a focus on women of color where students can be supported, and embrace their authentic self. 
Resources
add remove Ally Resources

add remove Additional Diversity Education Resources

add remove Interfaith Resources

add remove Transgender Resources

The Center for Diversity, Interfaith & Inclusion Education is here to be an ally for our transgender students. You are not alone.

Your Coker story is an integral part of our community's narrative. We recognize that the process of coming out as a transgender person is different, and in some ways more complex, than the experience of coming out as gay, lesbian, or bisexual. Coming out is a unique experience for everyone, and here at Coker, we want to be supportive throughout your transition.

Remember, you are not alone. 

If you need guidance, assistance, or resources, the Center for Diversity, Interfaith & Inclusion Education wants to help. Please contact us any time.

Safe Zone Training

The Center for Diversity, Interfaith & Inclusion Education offers Safe Zone training sessions throughout the semester. Contact us for more information about upcoming workshops, or to schedule one for your group.

From the Human Rights Campaign website: 

"For those people whose gender identity or innate sense of their own gender doesn't match with that assigned to them at birth, unraveling and expressing it can be complex and difficult.

This guide was designed to help you and your loved ones through that process in realistic and practical terms. It acknowledges that the experience of coming out or disclosure covers the full spectrum of human emotion – from paralyzing fear to unbounded euphoria. The Human Rights Campaign Foundation hopes this guide helps you meet the challenges and opportunities that living as authentically as possible can offer to each of us."

add remove Coker University Statement on Free Speech

FREE SPEECH IS CRUCIAL TO OUR SENSE OF BELONGING TO, AND OF OUR IDENTITY IN, A COLLECTIVE SPACE.

Coker University believes speech should be grounded in our unified efforts to include, to respect, and to care for all citizens. The freedom of speech ultimately yields controversy in communities that understand that truth is so complex that it can only emerge in mixed form. Just as the friction between two sticks yields the light of fire, the cacophony of voices that challenge, object, question, and critique can bring more light to any issue. Concurrently, the heart of education is the desire to make the wealth of human knowledge available, to foster new understanding, and to support ideas and actions that will lead to a more just and more equitable world for all humankind.

However, as we look out at the world, watch the news, or read social media, we may be dismayed by the words being spoken and the actions that are currently taking place–actions that divide, insult, and demean other people. The Southern Poverty Law Center has documented a rise in incidents of hate directed at people of color, immigrants and refugees, and people from the lesbian, gay, bisexual, and transgender community. These events are occurring across the world, in the United States, in South Carolina, on college campuses. Coker University is not immune to this disturbing pattern of behavior.

We do not seek to omit differences among citizens. On the contrary, we value the diverse experiences that each citizen of the community brings when those opposing voices struggle to persuade and elevate. Diversity edifies this struggle. We value its potential to render interlocutors as agonists–those who struggle together in pursuit of some goal–as opposed to antagonists–those who struggle against opponents. This can ultimately lead to strength and concord.

Scholarship and education must take place in an atmosphere of civil discourse. We can disagree without insulting, offending, or hurting other people, but we will not remain silent in the face of intimidation, ridicule, or bigotry. Language that debases, demeans, ridicules, stereotypes, or belittles others is at odds with Coker's educational objective and will not be tolerated. Therefore, it is necessary for members of the University to recognize and actively resist incidents of verbal harassment and intimidation, whether by voice, gesture, social media, phone or text, taking place on our campus. This behavior makes others feel unwelcome and is a violation of University policy; it has no place at Coker University.

It is up to each one of us to make the University a community that welcomes and celebrates the essential worth and unique qualities of each person. We hold ourselves and all around us to a high standard of speech–forgiving imperfect attempts at learning to speak in such a voice, but continuing to recognize that the well-being of diverse citizens is always at the center of democracy's aim at Coker University.

For more information on diversity and inclusion please contact Darlene Small, Director, the Center for Diversity, Interfaith and Inclusion Education, dsmall@coker.edu, 843-383-8039, LITC 118.