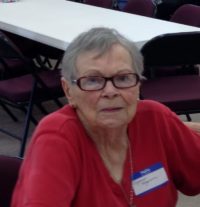 Jan. 22, 1927 – May 2, 2017
Virginia Cummings Rogerson, 90, of Florence, passed away on Tuesday, May 2, 2017, at Heritage Home in Florence.
She was born in Sumter, a daughter of the late Charles and Janie Moore Cummings.
She was also predeceased by a son, Daniel D. Rogerson Jr.; and two grandsons, Daniel D. "Dano" Rogerson III and Neil McQueen Rogerson.
She was a graduate of Coker University and received her master's degree from Cal State Fullerton. She was a member of All Saints Episcopal Church and was a longtime member of the All Saints Chapter of The Order of The Daughters of the King. Virginia was a treasure to her hundreds of piano students and will surely be missed.
She is survived by her husband of 72 years, Daniel D. Rogerson Sr.; a son, Wesley Jonathan Rogerson Sr. of Florence; two daughters, Jeannine Rogerson Clemens of Charleston and Carolyn Rogerson Holcombe of Florence; and three grandchildren, David Hugh Lyon, Ginny (Chris) Inabinet and Wesley Jonathan Rogerson Jr.
A memorial service will be held at 2 p.m. on Friday at All Saints Episcopal Church, led by the Rev. Paul Fuener and the Rev. Richard Archer.
A private Inurnment will occur at a later date at Florence National Cemetery.
Please sign the online guest registry at www.cainfuneralhome.com