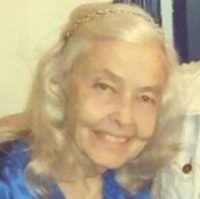 October 3, 1929 – January 11, 2018
Susanne Knight Dabney, former director of English as a Second Language (ESOL) program at Dunwoody Baptist Church in north Atlanta, and a long time Sunday School teacher there and at Atlanta's Wieuca Road Baptist Church, died Jan. 11, 2018 after a long illness.
A memorial service will take place at Georgia National Cemetery chapel on Feb. 9, 2018 with Fischer Funeral Care in charge of arrangements. She was preceded in death by her husband of more than 60 years, Joseph E. Dabney.
Survivors include a daughter, Geneva Dabney Llewellyn, of Athens, AL and four sons, all of whom reside in the Atlanta metro area: Joseph E. Dabney Jr., Mark Erwin Dabney, Jon Scott Sr. and Christopher Kevin Dabney. Grandchildren include Jon Scott Dabney Jr., April Llewellyn and Cheryl Llewellyn. Special friends include Judy Valencia and Pablo, Jackie & Victoria Ordonez.
Susanne was from Cheraw, SC, and a graduate of Coker University. After moving to Atlanta with her family in 1963, Mrs. Dabney earned her master's degree at Georgia State University and became a Protective Services social worker with the DeKalb County Welfare Dept. She later worked in the manufacturing research department at Lockheed Martin Aeronautics Company in Marietta, GA.
A devout Christian, Susanne was an active leader in her home church in Cheraw, SC, and later in the First Baptist Church in Florence, SC. In Atlanta she became very active at Wieuca Road Baptist Church where she organized and taught several classes of singles.
Beginning in 1990 after joining Dunwoody Baptist Church she became an active worker in the church's English as a Second Language (ESOL) program and later became the ESOL director for many years, leading to its expansion to more than 100 students from countries around the world and 30 volunteer teachers. For many years she taught a Sunday School class for Internationals.
In her spare time Susanne enjoyed photographing birds and flowers at the nearby Murphey Candler Park and also on visits to Europe, China, Australia, New Zealand and Alaska with her husband. She enjoyed taking pictures in her flower gardens, and wrote an unpublished religious book "Heavenly Conversations."
Her remains will be buried next to her late husband at the National Veterans Cemetery near Canton, GA. on Feb. 9, 2018 at 3:00 p.m. Berryhill Funeral Home is assisting the family.