Susan Weathers Floyd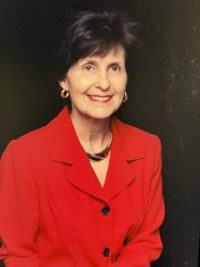 Dr. Susan Weathers Floyd, 72, of Lake City, South Carolina, died Saturday, October 9th, 2021 in Florence, South Carolina. She was the wife of Dr. Lane Napier Floyd and the loving mother, grandmother, and aunt to her two sons, four grandchildren, one niece, and three nephews.
Dr. Susan Floyd was born April 25th, 1949 in Orangeburg, SC. She was the daughter of George and the late Ruth Smith Weathers of Bowman, SC. She was raised in Bowman, SC.
Dr. Susan Floyd earned her Bachelor of Arts from Coker College in Hartsville, SC in 1971. While as an undergraduate at Coker College, Floyd earned the Algernon Sidney Sullivan Award for leadership. Dr. Floyd earned her Masters Degree in Speech Pathology from the University of South Carolina in Columbia, SC in 1974. Finally, Floyd earned her Ph.D. in Speech Pathology in 1999, also from the University of South Carolina in Columbia, SC.
Dr. Floyd served the children of Lake City, the Lake City community and Florence County School District Three schools for 30+ years as a public school speech-language pathologist and as the Supervisor of Speech Services in Florence District Three. To culminate her career of public service, Dr. Floyd served as the Education Associate for the Speech-Language Disabilities and Assistive Technology at the South Carolina Department of Education.
Dr. Susan Weathers Floyd partnered with her husband Dr. Lane Floyd in Floyd & Floyd Associates, LLC, an educational communications company specializing in improving communication in educational settings through presentations, consultations, workshops, and publications. Dr. Floyd presented her "Phonological Awareness Treatment and Intervention" literacy model and "Communication Collaboration" framework for standards-aligned school-based services at seminars, conferences and school districts across the nation. As the presenter and Vice President of Floyd & Floyd Associates, Dr. Floyd provided presentations and professional development for educators in 37 states during her tenure. She also served as the ASHA Legislative Councilor for South Carolina and was a member of the ASHA Division 16 for school-based services.
Dr. Susan Floyd earned the national 2001 Roland J. Van Hattum Award presented by the American Speech-Language-Hearing Foundation as the top speech clinician in the entire nation. Floyd was also awarded the ASHA Clinical Achievement Award for South Carolina in 2001 and the DiCarlo Award for Clinical Achievement in 1992.
Dr. Susan Floyd's interests included spending time at the beach cottage with her family, attending SC Gamecock football games, and engaging with her husband, children, and grandchildren. Dr. Susan Floyd is well-known by all in the Lake City community for her relentless, positive spirit and her desire to improve the lives of every person she encountered. Dr. Susan Floyd is thankful for the care and concern provided by loved ones during her illness. She is particularly grateful for the love, care, and counsel provided by Sylvia Burgess of Lake City, SC during her struggle with illness.
Surviving is her husband of 49 years, Dr. Lane N. Floyd of Lake City; son, Dr. James Weathers Floyd of Columbia SC; son, Dr. Scott Napier Floyd of Aiken, SC; father, George Weathers of Bowman, SC, daughter-in-law, Lenora Elizabeth Floyd of Columbia; daughter-in-law, Brittany Burgess Floyd of Aiken; grandson, Elijah Napier Floyd of Aiken; granddaughter, Eleanor Susan Floyd of Columbia, SC; granddaughter Evelyn Mary Floyd of Columbia, SC; grandson, Isaiah Kennedy Floyd of Aiken, SC; brother, Jimmy Weathers of Bowman, SC; brother and sister in-law Bruce and Laura Floyd of Florence, SC; niece, Stacey Walter of Orangeburg, SC; nephew, Wells Floyd of Brazil; and nephew, Adam Weathers of Bowman, SC