Roger A Wang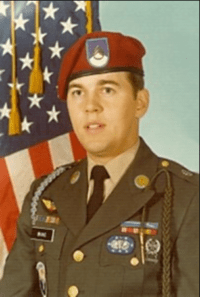 CSM (RET) Roger A. Wang Sr., 67, Junction City, KS, passed away at his home on February 21, 2020. Visitation will be Wednesday February 26, 2020, 6:00pm to 8:00pm, Johnson Funeral Home, 203 N. Washington St., Junction City, KS. Graveside Service will be held Thursday February 27, 2020 at Kansas Veterans' Cemetery, 5181 Wildcat Creek Rd., Manhattan, KS. In lieu of flowers Memorials are suggested to: Wounded Warrior Project PO Box 758-517, Topeka, Kansas 66675-8517.
CSM Wang was born on July 24, 1952, in Viroqua, Wisconsin, to Leif E. and Irene (Paulsrud) Wang and was raised in Westby, Wisconsin. He graduated Cashton High School class of 1970. He joined the Unites States Army in October 1971, was a Vietnam and Panama veteran. His basic training/IAIT was completed at Ft. Ord, CA. CSM Wang served with the 172nd Arctic Light Infantry Brigade in AK, Drill Sergeant at Ft. Jackson, SC, Project NCO Ft. Benning Training Development, 509th Airborne Battalion Combat Team in Vicenza, Italy, USMA West Point and with the 5th Infantry Division (Mechanized) Ft. Polk, LA as Platoon, Intelligence and First Sergeants. While with the 5th Infantry, he personally took the company from Ft. Polk to Panama and captured Noriega's headquarters. He was the National Guard/Reserve Component Advisor at Readiness Group Ft. McCoy, WI; SGM for NWTC Ft. Greely, AK; CSM, 1st Battalion, 16th Infantry (Iron Rangers), 1st Infantry Division (Big Red One), Ft. Riley, KS and lastly Brigade CSM, 1st Regional Training Brigade, Ft. Carson, CO.
CSM Wang earned his Bachelor of Arts in Social Sciences from Coker College, South Carolina. Military schools include USA Alaska NCO Academy, Airborne School, Jumpmaster School, Arctic Military Mountaineering Course, Inland Waterways Navigation Course, Leadership and Management Development Course, Drill Sergeant's School, Advanced NCO Course, pre-Commissioned Officer Course, Infantry Officer Basic Course, First Sergeant's Course, and the Sergeant's Major Academy. For his excellence in service to his country, CSM Wang earned many awards and decorations that include: Legion of Merit Award, Meritorious Service Medal 2 Oak Leaf Clusters, Army Commendation Medal 4 Oak Leaf Clusters, Army Achievement Medal 3 Oak Leaf Clusters, National Defense Service Medal (2nd Award), NCO Professional Development Ribbon numeral 4, Army Service Ribbon, Overseas Service Ribbon numeral 3, Master Parachutist Badge, Drill Sergeant Identification Badge, Canadian parachutist Wings Badge, Superior Unit Award, Good Conduct Medal (8th Award), Arctic Skills Patch, Expert Marksmanship Qualification Badge with Rifle Bar, Senior Parachutist Badge with Combat Distinguishing Device, 1 Bronze Service Star, and Expert Infantryman's Badge. He retired after 27 years serving his country proudly and with honor.
CSM Wang married Gerri W. Hicks on December 23rd 1977 at Fort Jackson. Their children were Roger Jr. and Joline. He was a member of the Westby/Coon Valley Lutheran Church of Westby, Elks Lodge, the American Legion, VFW of Randolph, Kansas, United States Army Europe Sergeant Morales Club, Association of the U.S. Army, Noncommissioned Officer's Association, and Audie Murphy Club. CSM Wang is survived by his loving family: ex-wife, Gerri Wang of Junction City, KS; Daughter, Joline (Jill Greer) Wang of Kansas City, MO; Son, LTC Roger A. (Dalela Ivory) Wang Jr. of Fort Bragg, NC; two grandsons, Erik and Evan; two brothers, Larry Wang of Toulon, IL, Frederick Wang of Westby, WI; two sisters, Beverly Wang (Verle) Erickson of Viroqua, WI, Kathy Wang (Wally) Hemmersbach of Cashton, WI; and a host of loving family and friends. He was preceded in death by his parents and sister Deborah Irene Wang.