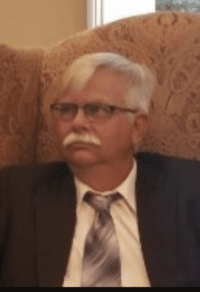 Funeral services for Raymond Harold Fisher age 63 will be held Saturday at 2:00 at the Emmanuel Baptist Church. Rev. Jamie St. Ours and Rev. Joey Colson will officiate. Visitation will be one hour prior to the service at the church. Private burial will be in Westview Cemetery directed by Norton Funeral Home. Anyone who would like to visit at the funeral home and sign the register book you may do so from 9:00am – 5:00 pm on Friday.
Raymond was born in Detriot MI a son of Mary Lou Denney Fisher Tedder and the late Rodney Harold Fisher.  Raymond, or Ray as his family called him, graduated from Spring Valley High School in  Columbia,SC in 1974.  In 1978 he graduated from Coker College, now University, with a BS degree in Business.  He was due to retire on December 1 of this year from Sandhills Telephone Cooperative, based in Jefferson, SC.  For the last 22 years Ray has worked as the financial officer for the company.  He loved his job and the people with whom he worked, and enjoyed a special friendship with CEO Lee Chambers, his lunch buddy.  On Tuesday mornings Ray enjoyed breakfast with George Singletary and Kim Cranford, the three amigos.  He also was a Gideon and enjoyed his Saturday morning meetings with his Gideon group, led by Tony Elias, another good friend.  On a personal note, Raymond enjoyed being with his family, from  Hartsville to Columbia.  He loved to "tinker" in his small shop, and he also loved working outside, doing almost anything.  Ray was a member of Emmanuel Baptist Church,  along with his wife, children and grandchildren.  Through the years he worked in the sound and video areas and was a deacon.  He and Teresa loved the music, especially the special songs.  Ray was a plain man,; he was exactly what he appeared to be.  He was a good listener and kept things to himself.  He was a big support to his Mom-in-law, going  by on weekends to prepare her medicine box for the week, and getting things she needed.    As an only boy among three sisters, he learned how to keep himself busy and out of women's way, except when needed.  He loved helping others.  When he was younger, he and his family camped all over the Midwest.  He enjoyed camping.  Although he didn't participate in many sports, he enjoyed the Kansas teams, especially delighted by Kansas City Chiefs' win in this years Super Bowl. He was our support and our rock, and will be missed.
**In his honor, any one attending the funeral service is asked to wear "Happy Socks" (don't buy, please) but any patterned or happy looking socks.  This was Ray's favorite hobby, collecting and wearing Happy Socks.  Although you will not see them, he is wearing some his staff had made for him with their pictures on them.**Antibacterial gel will be provided and masks are encouraged.  Ray would not want anyone to fear anything.
Surviving are his wife, Teresa Haywood Fisher, Hartsville; mother and step father, Mary Lou and John Tedder, Columbia; one daughter, Kat Fisher, Hartsville; one son, Matthew (Adrienne) Fisher, Hartsville; four grandchildren, Ethan, Sabrina, Aria and Micah Fisher, Hartsville; mother in law, Maxine Haywood, Hartsville; four sisters, Cindy Soto, Columbia, Robbie Fisher, Blythwood, Sheri Holmes, Blythwood and Raelynn Holmes, Lexington; several nieces and nephews.
Norton Funeral Home is honored to serve the Fisher family.