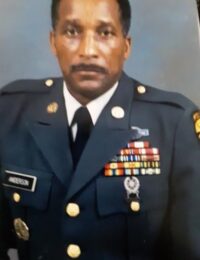 A Celebration of Life Service for Ret. CSM Russel Anderson will be held 12 noon, Tuesday, February 28, 2023 at Daniel Circle Chapel with interment to follow at Fort Jackson National Cemetery. Public viewing will be held from 3-5 pm Monday, February 27, 2023 at JP Holley Funeral Home Southeast Chapel.
In lieu of flowers, contributions can be made to the Wounded Warrior program.
***When attending any services face mask are required. We apologize for any inconvenience and appreciate your understanding. IN LIGHT OF THE COVID-19 PANDEMIC (Coronavirus)*** (no gathering or lingering).
Obituary
Command Sergeant Major (R) Russel Anderson, affectionately known as "Sergeant Smoke" was born January 29, 1938 in Coffeeville, MS. He transitioned on the afternoon of February 18, 2023 in Columbia, SC with his loving wife by his side. He was the son of parents, Lucious Anderson and Zenora Jackson Anderson. Russel was the fifth born of eight siblings.
CSM Anderson was educated in the public school system in Senatobia, MS and graduated from Senatobia Colored High School Class of 1956. In 1995, he received his Bachelor of Science Degree from Coker University. Russel is a graduate of the U.S. Army Sergeant Major's Academy Class 5, the U.S. Army Drill Sergeant School, the Noncommissioned Officer School and several other
Military Schools.
CSM Anderson enlisted in the U.S. Army in July 1958 in Memphis, TN. He completed Basic and Advanced Individual Training as a Combat Engineer, Fort Leonard Wood, MO. Soon thereafter he transitioned into the Infantry.
CSM Anderson was born to be a soldier and a leader. His ability to lead effectively was recognized early in his career and he was able to advance quickly through the ranks to the highest enlisted grade of Command Sergeant Major.
CSM Anderson was a highly decorated American Soldier whose awards included the Silver Star, (American's third highest military combat decoration), The Purple Heart, Distinguished Service Medal, Legion of Merit, the Bronze Star with "V" device, Army Achievement Medal, Meritorious Service Medal with Oak Leaf Clusters, the Combat Infantryman Badge, the National Defense Service Medal and the Vietnam Service Medal and numerous certificates of achievements.
CSM Anderson served as Squad Leader, Platoon Sergeant, First Sergeant and Command Sergeant Major. He served as Command Sergeant Major, 3 rd Battalion, 84 th Field Artillery, (Pershing) 9 th Infantry Division, 3 rd Battalion, 7 th Infantry Regiment; 3 rd Infantry Division, 1 st Battalion, 30 th Infantry Regiment; and Brigade Command Sergeant Major for the 1 st Brigade, 3 rd Infantry Division, CSM Anderson was one of seven Sergeants Major's to command the Noncommissioned Officer School of Infantry, Fort Benning, GA. He served two combat tours in the Republic of Vietnam, Several tours in Germany, South Korea, and at several locations in the Continental United States. His last assignment was Fort Jackson, SC, where he served as Post Sergeant Major until retirement in January 1993.
Russel, was always a strong advocate for Community Service. After retiring from the Military, he became an original member and First Chairman of Richland County Sherriff Department's Citizen's Advisory Board, President of the U.S Military Retiree Association, President of Association of U.S. Army (AUSA), Fort Jackson-Palmetto Chapter, Elected to the Hall of Fame, Member of National
Association for the Advancement of Colored People (NAACP), Junior Reserve Officer Training Corp, (JROTC) Instructor Batesville – Leesville High School.
Russel accepted Christ at an early age and was baptized at Hammond Hill Baptist Church in Senatobia, MS. He was known as one who always spoke firmly and intelligently, debated energetically, cared dearly about his family, friends, soldiers and community. He possessed superior listening skills and was always available for counsel to those in need. Russel was preceded in death by his parents, Brothers Lucious Anderson, Jr., Linwood Anderson and James H. Anderson, his daughter, DeAngela Anderson and his son, Russel Duanell Anderson. Left to cherish his fond memories: his loving wife Mildred "Millie" Anderson, and his Stepson William 'Keith" (Peggy) Belt, Columbia, SC, his grandchildren Melanie, Jaylen, and Todd Anderson, Damarcus Williams, and a host of loving relatives and friends.
As we salute and bid our Soldier farewell, we wish to borrow a quote from an old Soldier, General Douglas MacArthur who during his farewell speech to the Nation and the Corp said "Old soldiers never die–they just fade away.' So we bid CSM "Smoke" a final good bye and grant him permission to just–fade away.
To send flowers to the family or plant a tree in memory of Ret. CSM Russel Anderson, please visit our floral store.
Published by JP Holley Funeral Home Bishopville Chapel on Feb. 26, 2023.