Rebecca Field Henslee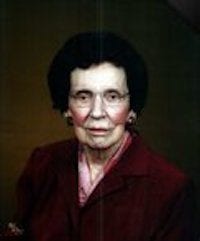 June 7, 1910 – May 1, 2017
Rebecca Field Henslee departed this earthly life on May 1, 2017. Born on June 7, 1910 in Dillon to Dr. Samuel Clifford and Jeanette McKenzie Henslee, she graduated from Dillon High School in 1927. She attended Coker University where she received Bachelor's degrees in music and Latin in 1931. At Coker University Rebecca Field was an active leader in many organizations and a strong athlete on the hockey, swimming and crew teams. A talented pianist, she studied at the Eastman School of Music in Rochester, NY. and studied music for a year in London, England, earning a Master's of Arts in Music. She taught music for five years at West Chester State College in Pennsylvania before devoting more than 30 years to teaching piano in Dillon public schools. She provided the foundation for many students who had successful music careers. Rebecca Field was a charter member of the Dillon Historical Society, a member of Dillon Business and Professional Woman's Organization, and on the Dillon County Library Commission, as well as serving as a trustee of Stafford Place. In addition she supported many other efforts to support and improve the community. A strong woman of faith she served as pianist and organist for First Baptist Church for more than 40 years, taught Sunday School, and volunteered with Helping Hands at the local hospital. She also established an endowed scholarship at Coker University. She enjoyed traveling, playing bridge, visiting with family, and her many friendships.
She is survived by several cousins including Anne Weber Poulsen Bolton of Richmond, Virginia.
The family will receive friends at noon on Saturday, May 6 at First Baptist Church in Dillon, SC. The funeral service will follow at 1:00 p.m. at the church with burial at Greenlawn Cemetery directed by Cooper Funeral Home.