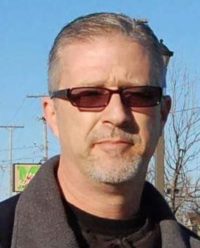 September 11, 1965 – May 14, 2017
Raymond F. Paquette III
Mr. Paquette was born September 11, 1965 in Hartsville, SC A US Air Force veteran, he served as a linguist in Panama and Texas. He loved camping, fishing, sailing and just walking in the woods and playing with Jane, his beloved dog. In the last few years, he became an avid gardener. A 1983 graduate of Berkmar High School in Lilburn, Georgia, he excelled in both Football and Basketball. He graduated from Coker University in Hartsville. Survivors include his father Raymond F. Paquette, Jr. of Raleigh, NC; his mother Monica Rogers Paquette of Hartsville, SC; his daughter Lindsey Ripley, her husband John and granddaughters McKenna and Callie; his daughter Holly Shahan and her husband Jaime; his son Dylan, his wife Savannah and grandson Cash. He was predeceased by his son Nick Paquette.A viewing was held on May 16th at Norton Funeral Home in Hartsville. A celebration of Ray's life will be on Saturday, May 27th in Hartsville at the Westview Memorial Park at 1:00 pm. The family invites all those in attendance to join them for lunch and fellowship across the street at Shug's Smokehouse. Those who desire to make a memorial contribution are encouraged to consider the Darlington County Animal Shelter in Hartsville.Condolences may be offered to the family in the guestbook at Norton Funeral Home under his obituary.