Patrick "Pat" James Seiy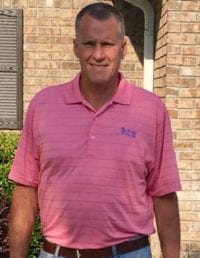 Patrick "Pat" James Seiy was born September 11, 1962 to the late Susan Winifred Toennis and James Francis Seiy in Milwaukee, Wisconsin. Pat departed this life peacefully on November 17, 2018. Funeral services will be conducted Tuesday, Nov. 20, 2018 at 3:00 p.m. at First Baptist Church of Leesburg. Dr. Todd Sullens will officiate. Interment will follow in Leesburg Cemetery.
The family moved to Albany, Georgia in 1971 where Pat attended school and graduated in the Westover High School Class of 1980. Pat was a student athlete and member of the football and basketball teams. He also attended ABAC and Albany Jr. College (now Albany State University-West Campus). Pat furthered his education and graduated from Coker University in 1985 where he earned a Bachelor's Degree in Physical Education and played basketball. He was also a member of the Gideons International, an Association of Christian men and women dedicated to telling people about Jesus.
His professional career expanded over 29 years of service at Buffalo Rock. He was known for his bright smile and big heart and loved by many. He later worked as a Sales Manager for Better Brands. Pat was a member of First Baptist Church-Leesburg.
Patrick's memories will be cherished by his devoted and dear wife Melanne S. Merritt Seiy (Lizella, GA). His passing is mourned by his three sons Connor Seiy, Garrett Seiy and Nathan Seiy all of Gray, GA, his brother Eric (Lisa) Seiy of Axton, VA. Others left to celebrate his memories are step children: Ryan Pittman (Cara) of Forsyth, GA., Josh Pittman (Fallyn) of Royal, AR, Bobby (Janee) Dranberg of Warner Robins, GA.; step grandchildren: Cassidy Pittman and Teagan Pittman of Forsyth Georgia, Izzy Pittman and Jace Pittman of Hot Springs, AR.; nieces: Sallie Rives Seiy and Abby Seiy and one nephew Wes Seiy all of Axton, VA. He will be remembered and missed by family, friends, classmates, former teammates, coworkers and many more.
The family will receive friends Tuesday from 2:00 p.m. until the funeral hour at First Baptist Church of Leesburg.
Those desiring may make memorials in memory of Patrick James (Pat) Seiy to The American Cancer Society, 507 West Third Avenue, Suite 4, Albany, GA, 31701.