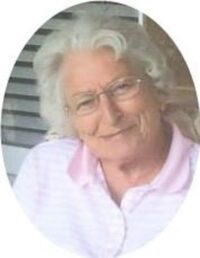 Beloved wife, mother, daughter, niece, nana, sister-in-law and friend, Patricia Ruth Thomas Beattie, aka "Peachie" or "Pat", 83 of Oakwood, GA, passed away on Saturday, June 10, 2023 in Oakwood, GA.
The family will have a visitation from 4-6 PM on Thursday (6/15) at Memorial Park South in Flowery Branch, GA. There will be a Rosary at 4 PM at the beginning of the visitation.
Funeral services will be held immediately following the visitation at Memorial Park South with interment at Georgia National Cemetery on Wednesday, June 21, 2023 at 2 PM.
Patricia was born in Monroe, NC to Ruth Lemmond Thomas and William Earl Thomas on September 27, 1939. She went to school at Walter Beckett High School. She married Michael Roger Beattie on June 30, 1962, in Charleston, SC and they have been married for 61 years. She graduated from Coker University. She worked as an educator and later as a Personnel Manager for Ivy's department store in Asheville, NC, Milliken and Leaseneville, in Gainesville, GA and retired from Eckerd Drugs. While in Monroe, she attended First Baptist Church of Monroe. Later, in Oakwood, she attended St. Michael's Catholic Church with her family. She was involved in the Johnson High School Band as Co-President and several prayer groups. Her hobbies were bowling, ceramics, gardening, and she was an avid reader of historical romance novels.
Patricia is preceded in death by her parents, Ruth & Earl Thomas; brother, Kenneth Thomas; sister-in-law, Dorothy Petit; brother-in-law, Dick Petit of Charleston, SC; and four beloved aunts, all from Monroe, NC.
Patricia is survived by her husband, Michael Roger Beattie of Oakwood, GA; daughter, Robin (David) Hall of Lilburn, GA; daughter, Pamela (Greg) Moore of Gainesville, GA; son, Chris (Lynn) Beattie of San Diego, CA; grandchildren, Alex Hall, Evan Moore, & Isabella Beattie; sister-in-law, Roberta (Jim) Thompson of Virginia Beach, VA; and numerous cousins, nieces, nephews, and friends.
In lieu of flowers, donations may be made to St. Jude's Children's Research Hospital, 262 Danny Thomas Place Memphis, TN 38105, www.stjude.org, or a charity of your choosing. The family of Patricia R. Beattie wishes to extend our sincere thanks to all the doctors and special caregivers and friends that were involved in her care.
Memorial Park South Funeral Home, 4121 Falcon Parkway, Flowery Branch, Georgia 30542 is in charge of arrangements. Send on-line condolences to www.memorialparkfuneralhomes.com.
To send flowers to the family or plant a tree in memory of Patricia Ruth Beattie, please visit our floral store.