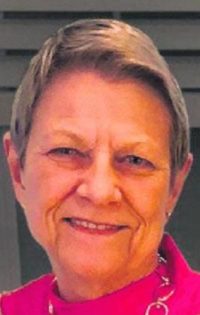 September 7, 1948 – April 8, 2018
Patricia Jacobs Lipe, age 69, of Johns Island, South Carolina, passed away on April 8,
2018, surrounded by her family.
Patricia ("Pat") was born to the late Harold and Jacqueline Jacobs in Pensacola, Florida
on September 7, 1948. She loved reading, cooking, travel, and time spent with family
and friends. She is survived by her husband of 36 years, Jeffrey Lipe, two children and
their spouses, Scott (Jodi) Lipe and Shannon (Dusty) McClure; three grandsons, Jaden
Lipe, Noah McClure, and Jonah McClure; her sister and brother, Janet Bex and James
Jacobs; her nephew, Jason Jacobs, her niece, Sarah Jacobs; and a large extended family.
Pat grew up in Columbia, S.C. She attended Coker University and then the Medical
University of S.C. in Charleston, where she graduated with both B.S. and M.S. Degrees
in Microbiology. Her career allowed her to travel the world, teaching clinical and
industrial microbiology.
Pat and Jeff were married in 1982 and lived in Atlanta, Georgia until Jeff's retirement.
Pat always hoped to return to the Lowcountry, and, in 2008, she and Jeff purchased a
beautiful plot of land on Johns Island and built a home where they could enjoy nature and
a slower pace of life.
Pat enjoyed entertaining, and her door was always open to loved ones who stopped by for
a one-hour visit or a week-long stay. Friends and family were very important to her.
She valued the friendships she developed, and she made regular plans with her family.
She had a special love for the time she spent with each of her grandsons – time spent at
the beach, cooking together, reading, dying Easter eggs, laughing at jokes, or just talking.
Pat was a loving daughter, wife, mother, sister, Nana, role model, and friend. Her
genuine appreciation of life, her adventurous spirit, and her always-positive attitude were
obvious to all who met her.
Services will be held at Old St. Andrew's Parish Church, 2604 Ashley River
Road, Charleston, S.C. at 1:00 pm on Saturday, the 14 April 2018. A reception will
follow the service.
Memorial contributions may be made to the Charleston Animal Society, 2455 Remount
Rd, North Charleston, SC 29406.