Patricia Hughes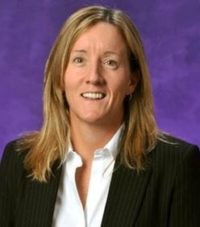 Patricia (Trish) Hughes named director of athletics for Salem College
Salem Academy and College President D. E. Lorraine Sterritt named Patricia (Trish) Hughes as director of athletics for Salem College.
"We are extremely pleased to announce Trish as our new director of athletics," Sterritt said. "This is truly an exciting day for Salem because Trish exemplifies all the qualities we were seeking in an athletics director with a wealth of experience both on the field and in athletics administration."
A native of Ireland, Hughes had a successful career as head women's soccer coach at the University of Montevallo where she took her team to the NCAA National Soccer Championship quarterfinals in 2007 and was named coach of the year in both the Gulf South Conference and the NSCAA South Region.
"I am very excited to join Salem College and the campus community, and I look forward to working with a very talented group of coaches and administrators," said Hughes.
Hughes comes to Salem after having served as interim athletic director, assistant athletic director for external operations, and senior women's administrator at Montevallo. Additionally, she served as senior associate director of athletics for internal operations at the University of New Haven, and as director of operations and director of the soccer academy at Lake Norman Soccer Club.
Hughes said, "during my campus visit it was clear that Salem College is a special place and possesses strong leadership under the guidance of Dr. Sterritt and other talented administrators. I have great admiration for the tradition and spirit of Salem athletics and I am excited to contribute to the continued success of the department athletically and academically."
She earned her BS in physical education from Coker University in South Carolina and her Med in physical education from the University of Montevallo in Alabama. She was inducted into the Coker University Athletic Hall of Fame in 2001.
Hughes will begin in her position at Salem on September 1.