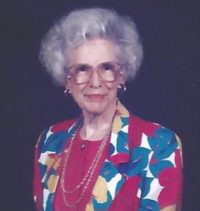 January 10, 1917 – November 20, 2017
Nelle McMaster Sprott, widow of William Thomas Sprott, died on Monday, November 20, 2017. The memorial service, conducted by the Reverend James McManus and Dr. Clyde T. McCants, will be held at Bethel A. R. Presbyterian Church at 2:00 P.M. on Wednesday, November 22. Visitation will follow in the Boag Building Fellowship Hall.
Mrs. Sprott was born on January 10, 1917 to Nell Elliott and Kitt Rion McMaster. She graduated from Mt. Zion Institute in Winnsboro, S. C., and Coker University with a bachelor's degree in Music. She taught music in Winnsboro at Mount Zion and Everett schools for twenty-six years. She also maintained a large private piano studio and served for over fifty years as the organist and choir director at Bethel A. R. Presbyterian Church. Mrs. Sprott was also the organist and director for the Winnsboro Choral Society for many years. In 1969, Mrs. Sprott was commissioned by the South Carolina Tricentennial Committee to compose the official state songs for the 1970 celebration. These songs, especially "Good Sandlappers" and "Carolina Sunshine," are remembered by school children across the state. She also composed other songs included in a later publication entitled Around the Year with the Singing Sandlappers. She was recognized as the State Teacher of the Year soon after this. Moreover, the governor recognized her outstanding contributions by awarding her the Order of the Palmetto. In addition to her musical contributions to our state, she authored several books: History of Bethel Associate Reformed Presbyterian Church (1820 1980), published in 1982, The Family History of Hugh Buchanan McMaster, and The Family History of James Elliott (1885-1865) of Winnsboro, SC, and His Descendents.
Mrs. Sprott is survived by her two sons, William Thomas Sprott, Jr., (Jeanne Wardlaw) and Richard McMaster Sprott (Miriam Center); three grandchildren: Marion Sprott-Goldson (Amanda), Hall Sprott West (Raleigh), and William Richard Sprott; two great-grandchildren: Elliott Scott West and Hugh Mayfield West; and one sister, Laurens McMaster Livings. Nelle was predeceased by her husband, William Thomas Sprott, one brother, Kitt Rion McMaster, Jr., and three sisters: Jane McMaster Roehrs, Caroline McMaster Lyles, and Dr. Rachel McMaster-Kaye. In lieu of flowers, the family suggests contributions be made to Bethel A. R. Presbyterian Church, P. O. Box 639, Winnsboro 29180, the Clinton Retirement Community, 801 Musgrove Street, Clinton, SC 29325, or to a charity of one's choice. Pope Funeral Home is assisting the Sprott family. Charitable donations may be made to: Clinton Retirement Community 801 Musgrove Street, Clinton SC 29325 Bethel ARP Church PO Box 639, Winnsboro SC 29180