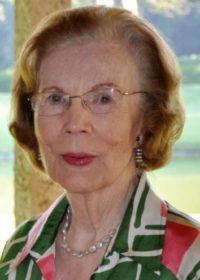 December 19, 1930 – December 12, 2017
Miriam Anne (Tiggie) Benefield died at her residence on Tuesday, December 12, 2017 at the age of 86. She was born in Mullins, South Carolina to the late James C. and Bonnie Coward Hooks.
She graduated from Mullins High School and Coker University in Hartsville, South Carolina where she was an outstanding athlete. After graduation, she taught General Science and girls' High School Physical Education and coached at high schools in Florida, North Carolina and South Carolina. Tiggie met her husband, Dewey Benefield, at Sea Island, Georgia and they were married in 1960. She had a gift for organizing and was the driving force behind the founding of Frederica Academy. She was especially pleased that her son Jim was the first student registered at Frederica Academy and her daughter Helen was the second. She has generously supported Coker University and Frederica Academy. In the 1960s, she was twice Chairman of the St. Simons Cotillion. She was an organizer of the MAP Ladies' Auxiliary when that group came to Brunswick and was one of the principal fund raisers for CASA Glynn. She was also one of the organizers of the Sea Island Skimmers where she served as the first Chairman. As a member of the St. Simons Presbyterian Church, she was the first woman Elder in the Savannah Presbytery. Her hobbies included gardening, bridge, music, art, and travel. She and her husband have visited all fifty states and five continents.
She was predeceased by her parents and two brothers, James C. Hooks, Jr. and William Thomas Hooks. Survivors include her husband of 57 years, Dewey Benefield; a son, James (Jim) D. Benefield III and his wife Susie; a daughter, Helen Benefield Billings and her husband Don; her grandchildren, Elizabeth Riley Benefield Mattox (Dexter), Jackson Fitzgerald Benefield, Harrison Delaney Benefield (Ann), and Catherine Parker Benefield; also surviving is her sister, Marjorie Hooks Bethea of Florence, South Carolina; a sister-in-law, Ann Mace Hooks of Marion, South Carolina; her two nieces, Bonnie Bethea Weeks and her husband Garner of Briarcliff, South Carolina and Wellons Hooks Williams and her husband J.P. of Marion, South Carolina; two nephews, Tom C. Bethea Jr. and his wife Dorothy of Dillon, South Carolina and Dr. James Frank Bethea and his wife Linda from Isle of Palms, South Carolina. Four great nieces and four great nephews also survive.
The family would like to extend a special thank you to the staff of Georgia NurseCare and Hospice of The Golden Isles.
A Memorial service will be held at 11AM at the St. Simons Presbyterian Church, Friday, December 15, 2017 with Reverend Bob Brearley officiating.
In lieu of flowers, the family would to extend a heartfelt thank you for memorial contributions made to Frederica Academy.
Arrangements are entrusted into the care of Edo Miller and Sons Funeral Home www.edomillerandsons.com