Marjorie Frances Guest Javadi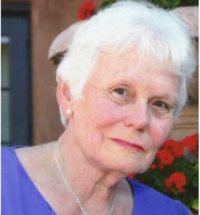 July 29, 1931 – May 1, 2017
Marjorie Frances Guest Javadi passed away Monday, May 1, 2017 in Orem, Utah at age 85 of complications from cancer.
Marjorie was born July 29, 1931 in Mullins, Marion County, South Carolina, first child and daughter of William Major and Phodia Weatherford Guest. She graduated from high school in nearby Hartsville. In 1949, she continued her education at Brigham Young University in Provo, Utah where, after marrying, taking courses at Coker University in Hartsville, moving back to Provo, starting her own home, and having three children, she was awarded a Bachelor of Science from BYU in Elementary Education in 1959. She taught first grade in Provo, Utah schools for many years and then at Community School in Teheran, Iran. She gave birth to a fourth child in Provo during these years. She achieved a graduate-level certificate at BYU in Teaching English as a Second Language in 1982. After raising the four children, she worked as high school librarian in Dillon, South Carolina and retired from the South Carolina school system in 1993.
She loved beauty, especially in music, flowers, and nature. She enjoyed playing the piano and singing. She loved lilacs and planted rows of petunias around her home in Provo every year. She marveled at the strength and majesty of the Wasatch Mountains, which gave her comfort and security.
A faithful, lifelong member of The Church of Jesus Christ of Latter-day Saints, Marjorie supported two sons on missions for the church. She also gave volunteer service as a temple worker at the Church's Mt. Timpanogos Temple and was a church musician from age nine, a beloved storyteller and, last but not least, an avid family historian.
In life, Marjorie sought knowledge, adventure and beauty. Indeed, an article of faith of the LDS Church describes her life – she believed in doing good to all people and constantly sought after those things which are virtuous, lovely, and praiseworthy. She pursued education for herself and her children. From her childhood, she loved adventure and traveled throughout Europe and the Middle East – spending much time in Iran, the birthplace of her husband, Hassan Javadi – and then in 1973 fulfilled a wish to visit the Holy Land during the trip of a lifetime to Israel with her mother. Her experiences opened the world to her children and broadened their horizons.
She is survived by a brother, Travis B. Guest (Lenore); a sister, Lois Gwendolyn Moffett; and by her four children: Zahra of Provo, Utah; Joseph (Monica) of Barcelona, Spain; LaDan of Lehi, Utah; and Matthew (Lisa) of Detroit, Michigan. She is also survived by 13 grandchildren, 25 great-grandchildren (and counting), and much loved cousins and friends. She is predeceased by a brother, Gerald D. Guest (Carolyn), and LaDan's husband, Richard Tjaden.
We miss our mother tremendously. She was our earthly foundation, our center, and our inspiration.
A memorial service will begin at 11:00 a.m. on Thursday, May 18, at the Edgemont 2nd Ward chapel of The Church of Jesus Christ of Latter-day Saints, 555 East 3230 North, Provo, Utah. Interment will be Saturday, May 20 in Scottsdale, Arizona next to her beloved parents.
Sincere appreciation is expressed to Marjorie's caregivers at Cove Point Assisted Living in Provo; Orem Rehabilitation & Skilled Nursing; and Envision Hospice.
In lieu of flowers, the family requests contributions to Humanitarian Services of The Church of Jesus Christ of Latter-day Saints.