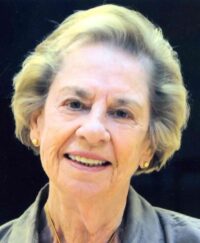 "Christ in you, the hope of glory"
Colossians 1:27
Marilyn Brabham Lyles, a native of Florence, South Carolina and a former Hampton and Newport News, VA resident for 58 years, died at the Deerfield Episcopal Retirement Community in Asheville, NC on Thursday, October 28, 2022. Born August 31, 1927 she was the oldest child of Vance Lyn and Cynthia Waters Brabham. Her two brothers, Vance Lyn Brabham, Jr. and the Reverend John Risher Brabham preceded her in death.
Marilyn was a graduate of Florence High School and Coker College in Hartsville, South Carolina. During a short career as a teacher of Spanish and World History in Florence, she met and soon married Joseph Henry Lyles. Joe and Marilyn were happily married for 54 years until his death in 2003.
They are survived by their son, Joseph Bryan Lyles; their daughter, Cynthia Lyles Giangreco; three grandsons, Mark Giangreco (Isha), Christopher Giangreco (Portia), and Matthew Giangreco (Brittni); and three great grandchildren.
Marilyn enjoyed tennis, gardening, bridge, and Bible Study. A long-time member of First United Methodist Church, Hampton, she served as Chairman of Circle #3, Superintendent of Sunday School, and a member of the Board of Trustees.
After the death of her husband, Marilyn met and married John Southey Wise, a fellow resident of the Chesapeake Retirement Community where she has lived since November 2000. They had a short but happy life together before he died in February 2009.
The family plans a memorial service at a later date. Groce Funeral Home at Lake Julian in Arden, NC is assisting the family and a guest register is available online at www.grocefuneralhome.com.
"All that we have accomplished you have done for us."