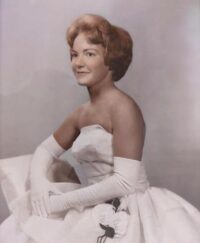 Henrietta Ramsey VanArsdall
January 31, 1940 – January 16, 2023
Columbia, South Carolina – Henrietta Ramsey VanArsdall, 82, widow of David Elmer VanArsdall, passed away peacefully on January 16, 2023, after an extended illness. She was born in Chambersburg, PA, daughter of the late Hilda Fisher and Garrett Henry Ramsey of Asheville, NC.
She attended Asheville public schools and the University of North Carolina where she was a member of Kappa Delta Sorority. She graduated from Coker College Cum Laude with a degree in Biology. In 1974 she earned a Master of Science degree in Ornamental Horticulture from Clemson University and became a registered landscape architect in South Carolina.
Her professional career included operating Jackson Heights Nursery in Columbia, where she did extensive research and design for the Historic Columbia Foundation. In addition to being a noted residential landscape designer and consultant, she was an accomplished large-project director who served as Landscape Supervisor for the Lake Toxaway Company, the Highlands Country Club and Cedar Creek Racquet Club in western North Carolina.
A lifelong lover of music, especially opera, she served on the board of the Columbia Music Festival Association and was President of the Columbia Lyric Opera. She was a past president of the Columbia Medical Auxiliary and enjoyed being a member of the First Friday Book Club.
She is survived by her children; Virginia Clare Andrews of Columbia, Aileen Clare of Columbia, Elizabeth Clare Ellinger and husband Charlie of Columbia and Stewart "Rooney" Clare of Lexington; four grandchildren; and two great-grandchildren; sisters Anita Ramsey Bowden and husband Ted of Stewart, TN, and Linda Ramsey Snyder of Mount Hood OR; one niece; two nephews; and her beloved dog, Swiffer. She was preceded in death by her parents, husband David, and two nieces.
A celebration of life and reception will be held at the Columbia Music Festival Association, 914 Pulaski St, Columbia, on January 29, 2023, at 2:00 pm.
Memorials may be made to the Columbia Music Festival Association, or to the animal rescue shelter of your choice.
The family wishes to thank the caregivers and nurses of Still Hopes Broad Neighborhood and Heart of Hospice for their care and compassion and Anita and Angela for opening their hearts and home to Swiffer.
Published by The State on Jan. 22, 2023.