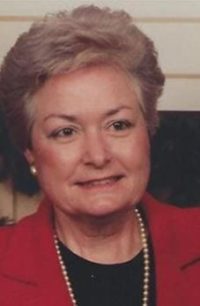 December 25, 1927 – April 28, 2018
Margaret Rodgers Poston, 90, of 112 Orchard Park Drive, Greenwood, S.C., widow of Marion Earl Poston, passed away on April, 28, 2018 at HospiceCare of the Piedmont in Greenwood. Born December 25, 1927 in Florence County, she was a daughter of the late Aaron David Rodgers and Linzie Matthews Rodgers.
At age 16, Margaret entered Coker University where she was very active in all aspects of campus life. She graduated in 1948 with a B.S. in Religious Education and Elementary Education. She later pursued graduate work at Clemson University and the University of North Carolina.
She began her teaching career in East Hampton, Long Island, N.Y. She also taught in High Point and Salisbury, N.C. After her marriage and the birth of her children she continued her career in Greenwood teaching third grade at Blake School.
In 1973, she and Marion relocated to Greenville, S.C. where she taught fourth grade at Mitchell Road Elementary School until her retirement in 1986. She received the honor of Teacher of the Year at Mitchell Road Elementary School in 1986.
While living in Greenville, she and Marion were actively involved as members of First Baptist Church where she served as a Deacon and Sunday School teacher. After retirement they returned to Greenwood in the year 2000. Upon returning to Greenwood, she became very active in First Baptist Church of Greenwood where she served as a member of the Carpenter Sunday School Class, as a member and leader of the Louise Bowers Circle, a member and President of the NGO Club, and a member of the senior choir, Sounds of Grace.
She is survived by two sons: Doug Poston (Jane) of Charleston, S.C., Kenny Poston (Nancy) of Greenwood, S.C., five grandchildren: Meg Hastings (Aaron), Ellison Rowe (Henderson), Katherine Poston, Dr. Rick Carter (Dawn), Melissa Carter (Alex Simanovsky); seven great grandchildren: Courtney, Rick, Sarah and Jac Carter, Sophie Simanovsky, Warren and Adrian Hastings, a sister-in-law, Diane Rodgers, and numerous nieces and nephews.
In addition to her husband, she was preceded in death by an infant daughter, Margaret Kathleen, a sister, Elizabeth Hunt, and brothers John David Rodgers, Leneau Rodgers, and Samuel Rodgers.
A memorial service will be held at 4:00 p.m. on May 2, 2018 at First Baptist Church in Greenwood, S.C. with Dr. Tony Hopkins officiating. The family will receive friends in the Narthex of the church immediately following the service. A graveside service will be held on May 3, 2018 at 11:00 a.m. at Lake City Memorial Park, Lake City, S.C. with Michael Rodgers officiating.
Honorary Pallbearers will be members of the Carpenter Sunday School Class and the Louise Bowers Circle.
The family would like to thank all of the many wonderful friends and family for their thoughts, prayers and acts of kindness shown to Margaret in her last days, who are too many to name without leaving someone out. In lieu of flowers please consider memorials to First Baptist Church, 722 Grace Street, Greenwood, S.C. 29649 and HospiceCare of the Piedmont, 408 West Alexander Avenue, Greenwood, S.C. 29646.