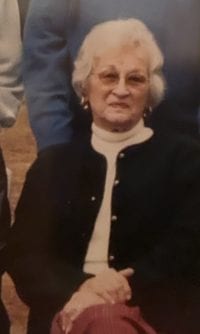 Margaret Honora McMillan Pace Carter, 87, of Mullins passed away peacefully at her home on Friday, January 1, 2021. She was born in Columbia on March 22, 1933, the daughter of the late Carl B. McMillan and the late Honora Elkin McMillan.
Margaret attended Coker College and graduated from Columbia College. In her early years, she taught school in North Charleston before moving back to Mullins. She spent many years working as a bookkeeper first in the Business Office at Mullins Hospital and later at Mullins Hardware, from where she eventually retired. She loved to cook and do needlework and was well-known for her many beautiful handmade creations. She had a quiet, sweet spirit and loved animals, adopting many of the ones that showed up at her home. She was an avid USC Gamecock fan and a member of Macedonia United Methodist Church.
In addition to her parents, Margaret was predeceased by her first husband, Dr. Daniel R. Pace, as well as her second husband, John S. Carter.
She is survived by her daughter, Era Pace Carmichael and her husband, Martin of Conway and a son, Daniel M. Pace of Myrtle Beach; a brother, Carl B. McMillan, Jr. of Lexington; two grandchildren, Sarah A. Carmichael of Conway and Benjamin T. Carmichael (Divya) of Charleston, and one great-grandchild, Olivia M. Myers.
A graveside service will be held at 2:00 p.m., Tuesday, January 5, 2021at Cedardale Cemetery in Mullins with Reverend Kem Thomas officiating. The family will receive friends at the cemetery following the service. We respectfully request that you wear a mask and practice social distancing while in the cemetery.
If you would like to remember Margaret, the family suggests that memorials be made in her memory to the Macedonia United Methodist Church Men's Group, 402 North Main Street, Mullins, South Carolina 29574, or to the Marion County Animal Shelter, 123 Dog and Cat Road, Mullins, South Carolina 29574 or to McLeod Hospice, 1203 East Cheves Street, Florence, South Carolina 29506.
The family would like to thank Margaret's caregivers, Lillie Ceo, Karen Reaves, Lily Howard, Windy Ceo, and McLeod Hospice. Your caring heart, compassion, guidance, support and caregiving skills have been such a blessing to our mother and to us.
An online guestbook is available at www.mearesfh.com.
Margaret is in the care of Meares Funeral Home of Mullins.