Lula Moshoures Redmond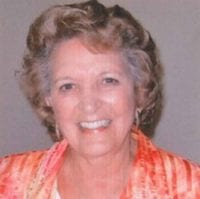 Lula Moshoures Redmond, R.N., MSN, LMFT, Fellow of Thanatology, died January 19th, 2019. She was the widow of Capt. John G. Redmond, USN who died in 1974 due to radiation exposure at Enewetak. Married for 25 years the couple lived in various locations from Norfolk, Virginia, to Hutchinson, Kansas; Marianas Island, Guam; Barbers Point, Hawaii; Annapolis, Maryland; Brunswick, Maine, Los Angeles, California, and McLean, Virginia among other locations throughout their Navy career.
Lu was born in Asheville, N.C., lived in Myrtle Beach, S.C. while in grammar school, she graduated from Montreat High School, and Coker University prior to graduation from Duke University School of Nursing in 1949. Jack and Lu met at Duke and were married October 9th, 1949. She worked as an RN in several locations during her husbands' Navy deployments. After the death of Capt. Redmond, Lu returned to school at George Mason University, the University of Maryland and Georgetown Family Center where she completed studies to become a Licensed Marriage and Family Therapist.
She moved to Florida in 1980 and maintained an active private practice in the area of Thanatology. Due to her life experiences as a Navy wife, she had a vivid interest in the care of dying patients and grieving families. In the early 80's she was among the pioneers of the Hospice movement, after studying the Hospice Concept in England. Upon her return to the U.S., she trained the staff for The Hospice of The Florida Suncoast in Pinellas County and assisted in the training of six other Hospice staffs in the U.S.
Lu was the founder of The Center for Crime Victims and Survivors, Inc. in Pinellas County in the early 90's where she designed protocols and provided mental health services for families whom had experienced the murder of loved family members by homicide. She trained a staff to work with survivors and victims of crime and worked with local Police Departments to train Victim Advocates. She served as an Expert Witness in excess of 30 trials in complicated bereavement legal cases.
She served as a Past President of the Association for Death Education and Counseling, Inc. (ADEC) and contributed to the early development of that organization. Lu lectured throughout the United States and internationally on traumatic death and grief. She had the honor of presenting lectures to groups throughout the United States as well as in England, China, Egypt, South Africa, Hong Kong and elsewhere. One of her proudest achievements was teaching a four day course on Grief for Survivors of Sudden Violent Death to Ministers and Priests in Jerusalem.
Lu had the opportunity to share her expertise on national television shows such as Oprah Winfrey, Phil Donahue, Sally Jessy Raphael and Geraldo Rivera, to note a few. She was a frequent contributor on local television and radio programs.
Lu is survived by two sons, John Redmond of Palm Harbor, Florida and Tom Redmond and his wife Kristina of San Diego, California, and her daughter Anne Fishel and her husband Rick of Denver, Colorado. Lu has six grandchildren Joe, Kate, Bill (Crissy), David (Kirsten), Jack and Grace (Trevor) who have traveled with, played with, and adored their Gran'ma. And Lu has seven great grandchildren Jack, Mike, Nora, John, Zoe, Emma and Andy who will know of her legacy and love.
Services will be held at Curlew Hills Memory Gardens, 1750 Curlew Road, Palm Harbor, FL 34683. Phone 727-789-2000. CurlewHills.com
Lu will be buried at an undetermined future date at Arlington National Cemetery next to her beloved Jack.
In lieu of flowers (since there will not be a burial at this time), donations can be made to the Suncoast Hospice, 5771 Roosevelt Blvd., Clearwater, FL 33760. suncoasthospicefoundation.org/donations
The Pearl Team of her local Suncoast Hospice provided exemplary professional and personal care to both Lu and her family. It was an amazing opportunity to see life come full circle; what she assisted to create, was there to provide her care in her final journey.
To send flowers or a memorial gift to the family of Lu Redmond please visit our Sympathy Store.