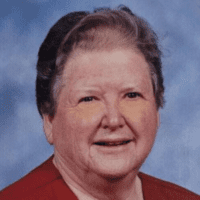 Funeral services for Mrs. Lily Mae Mims Bailey, 87, will be held at 3:00 pm on Wednesday, July 7th, 2021, in the North Hartsville Baptist Church. The Rev. Ladell Humphries will officiate with burial in Magnolia Cemetery. The family will receive friends following the service at the graveside. Brown-Pennington-Atkins Funeral Directors are caring for the family.
Mrs. Bailey, widow of the Rev. Dr. Richard E. Bailey, entered into rest on Monday, July 5, 2021. Born in Clarendon County, SC, she was a daughter of the late Purdy Mims and the late Lucille Cannon Mims. She was a charter member of North Hartsville Baptist Church where she taught the Love and Labor Sunday School Class for over 20 years. Mrs. Bailey was a devoted Christian and her motto was "I don't worry about anything, God will take care of it." She graduated from Coker College with a Bachelor of Arts degree in Elementary Education and taught at North Hartville Elementary School for over 30 years.
Surviving are her son, Dwain (Sallie) Bailey of Hartsville, SC; daughters, Fran Langley and Shan Brown, both of Hartsville, SC; granddaughters, Samantha Brown and Danielle Brown (Lee) O'Neal; great-grandchildren, Jaxson O'Neal, Aiden O'Neal; special cousin, Betty Porter; special niece, Delene Bryant.
She was preceded in death by her sister, Virginia McAllister and an infant brother.
In lieu of flowers, memorials may be made to the North Hartsville Baptist Church, 1117 Patrick Hwy., Hartsville, SC 29550.