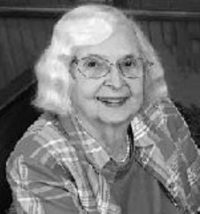 September 30, 1924 – April 9, 2018
Leila Carter Vance of Jacksonville, FL, passed away peacefully in Hospice care on Monday, April 9, 2018, at St. Vincent's Hospital South. Born in Augusta, GA, on September 30, 1924, she was the only daughter of Benjamin Haskell and Katherine Eubanks. Leila was preceded in death by her twin brothers Albert and Arthur Eubanks.
Leila graduated from St. Angela Academy in Aiken, SC, and attended Coker University, but left school to get married. When her marriage to Richard (Dick) de Treville ended in 1950, she moved from Augusta, GA, to Jacksonville, FL, where she worked for State Bank of Jacksonville as administrative assistant to the president. In 1954 she married Toppy L Carter, Jr. Their marriage lasted 40 years until his death in 1994. She felt a "calling" in 1958 and became the office manager of United Cerebral Palsy of Jacksonville for several years. Leila later returned to college and obtained a bachelor's degree from the University of North Florida, majoring in finance. For several years she worked in investments at the corporate offices of Barnett Bank. Again, she felt called to serve others, so she returned to college to obtain her building contractor's license. Leila formed a company that provided wheelchair accessibility design such as ramps, wider doorways, and accessible bathrooms, along with construction services for both commercial buildings and residences. Her non-profit clients received Leila's services at no charge, to include the First United Methodist Church of Jacksonville for a wheelchair ramp. Additionally, she worked with several insurance companies to adapt the homes of stroke victims. After her husband Toppy's death, she moved to Westminster Woods on Julington Creek. There, she met a widowed United Methodist minister, the Rev. George Vance, who asked Leila to marry him. They wed in 1998 and had 14 wonderful years together at Westminster Woods until his death in 2012. Leila was a lifelong accomplished pianist with a great love of music. She was a 40-year member of the Friday Musicale, where she served several terms as treasurer, as well as a member the Jacksonville Symphony Society.
Leila is survived by her daughter Lisa Farmer and husband Frank of Charleston, SC; son Rick de Treville and wife Brenda of Orlando, FL; son Toppy L Carter III of Jacksonville, and her grandson Rich de Treville of Nashville, TN. A future memorial service is planned for Leila at Westminster Woods.