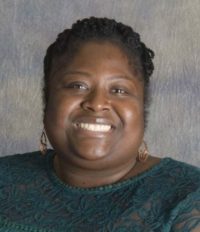 LaQuetta Daniels Johnson was named the 2017-18 Darlington County District Teacher of the Year.
Pate Elementary School in Darlington won District Teacher of the Year honors for the second year in a row on Thursday night. One of five finalists and an Honor Roll Teacher, LaQuetta Johnson was named the 2017-18 District Teacher of the Year. She is a first-grade teacher at Pate.The announcement came during the district's annual Teacher of the Year Banquet held in Mayo High School for Math, Science and Technology's new conference center. Before the announcement, Johnson said, "I'd be really, really happy if I won. I worked hard for it." She said she would like to repeat the honor for her school and her district.
The selection was made by a panel of judges composed of past teachers of the year, district administration and community leaders. Judging included an application, video of her classroom instruction and a face-to-face panel interview. Johnson thanked her parents and her principal, Emily Lunn, for supporting and encouraging her. She said her principal believed in her when she didn't always believe in herself. "I feel good," she said. "I am honored." She also offered these words for her fellow teachers. "I just want to thank everyone for this opportunity," she said. "And I want to say remember that the students in your classrooms today are the future leaders of our world. If you always remember that, you will always excel at what you do." Johnson, who holds a master of education degree in reading and mathematics from Walden University and a bachelor of arts in early childhood and elementary education from Coker University, explained her philosophy of teaching in an extended application required for consideration. "My philosophy of teaching is to teach the whole child. I cannot just focus on academics, but I must build relationships with each of my students," Johnson wrote. "Building relationships enables my students to become less afraid of making mistakes. I believe that every child that steps across the threshold of my classroom door will become a success. I believe that if I hold high expectations for my students they will strive to meet them."
Her parents, Timothy Daniels and Toja Daniels, were her guests at the banquet. Her father said after the announcement, "I am very proud." He said she always wanted to be a teacher and to help people read. Her mother also said her daughter is a good teacher, and she is very happy for her. Lunn was thrilled to have the District Teacher of the Year from among her ranks for the second year in a row. Hanna Hanlin was the 2016-17 District Teacher of the Year. "It is wonderful. I have wonderful teachers at Pate," Lunn said. She said the honor was well-deserved by both teachers. The four remaining finalists will serve as the district's 2017-18 Honor Roll Teachers of the Year.
The 2017-18 Teachers of the Year selected by their peer teachers will serve on the district's Teacher Forum and Leadership Council, acting as teacher leaders and advisers for the district. Full article can be found here.