LaNola Bacote Goings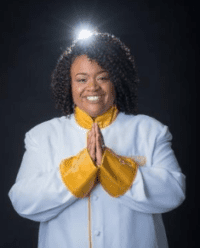 Funeral services for Prophetess LaNola Bacote Goings will be conducted 11:00 AM, Thursday, November 14, 2019 at Savannah Grove Baptist Church with burial to follow in Sunset Memory Gardens. She died on Thursday, November 7th in a local hospital after an illness.LaNola was born on June 5, 1979 in Florence, SC to the late Eugene C. Bacote, Jr. and Mary Geiger Bacote. She was a 1997 graduate of South Florence High School, and she earned her Associate of Arts Degree from Florence-Darlington Technical College, and a Bachelor of Science in Business from Coker College. LaNola was formerly employed with Heritage Community Services.She was a dedicated member of Outreach Family Fellowship for several years and was instrumental in nurturing the youth, drama, music, and website ministries. She was installed as an Elder in 2010, and she served as co-pastor with her husband, Pastor Rodney T. Goings, at Heart of Christ Family Fellowship in 2013.
Survivors include: her husband, Pastor Rodney T. Goings; mother, Mary G. Bacote; sisters: Tanisha B. Daniels (Darrell), Corren G. Johnson (Earl), Catrina James, and Latosha Carmichael; brothers: Christopher Baker (Shalana), Marcus Hamer (Monica), Corey Grice, and Darrel Galloway; fathers-in-law, LaVern Baker (Rebekah) and Joseph Legette (Anita); and a host of nieces, nephews, aunts, uncles, cousins, other relatives, church families and friends.The remains will lie in repose one hour prior to the services. The family is receiving friends at the home, 2905 Savannah Grove Road, Effingham. Memorials and Condolences may be mailed to Ideal Funeral Parlor, 106 E. Darlington Street, Florence, SC 29506 or visit www.idealfuneral.com to leave a message for the family.