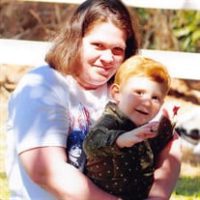 Kimberly entered rest on Monday, April 4, 2022, after a brief illness. Born in Darlington, SC, she was the daughter of the late Lyle Brown and Marie Patterson Brown. She was a graduate of Hartsville High School and received her bachelor's degree from Coker College. She also earned her master's degree from Wingate University.
She was employed with McLeod Regional Medical Center. Kimberly had a deep love for animals and had previously worked with the Darlington County Humane Society for 6 years. She enjoyed going to the mountains and the beach. In her younger years, she was involved in many different sports. Her favorite music artists were George Strait and Tom Petty. Her son, Patton was her heartstring, and she was a wonderful mother to him.
Left to cherish her memory are her husband, Ben McRae; son, Patton Lee McRae; mother, Marie Brown; sister, Kristin Brown; grandmother, Brooksie Daniels-Bowen; aunts, Ann Crowley, Susan Brown; sister-in-law, Shannon McRae; nephew, Boogie McRae; Ben's grandmother, Sarah McRae; special friends, Hillary White, Angie & Michael Tiller, Phyliss Marsh, Holly Frose, Tracy Johnson, Josey Kelly, Bryant Lawhon and many others who loved her dearly.
In lieu of flowers, memorials may be made in her honor to the Darlington County Humane Society, PO Box 1655, Hartsville, SC 29551 or online at https://darlingtonhumane.org/donate/.