Helen Holland Chaplin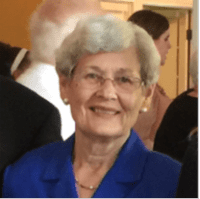 Funeral services for Helen Holland Chaplin, 84, will be held at 2:00 p.m., Wednesday, March 20, 2019, at West Hartsville Baptist Church. The Rev. Dr. Kevin Walters will officiate with burial in Magnolia Cemetery. The family will receive friends Tuesday, March 19, 2019, from 5:00 to 7:00 p.m. at Brown-Pennington-Atkins Funeral Home.
Surrounded by her family, Helen Holland Chaplin went to be with her Lord and Savior on March 15, 2019. Born in Lee County, South Carolina, she was the daughter of the late Lawrence Edward Holland and Frances Segars Holland. Married for 64 years, she was the wife of William (Bill) Graves Chaplin.
Helen received her Associates Degree in Business from Coker University. She was a charter member of West Hartsville Baptist Church. She taught Sunday School and VBS as well as directed the youth group for several years and worked in the church office on Sunday mornings. She retired from Sonoco after 25 years of service. She loved to walk in Kalmia Gardens and loved watching her birds. Helen loved to read and watch old movies.
Helen is survived by her husband, Bill Chaplin; four daughters, Sarah Chaplin Roberts (Rob), Anne Chaplin Braddock (Bill), Catherine Chaplin Hanson (Chris), Nancy Chaplin Srock (Brian); eight grandchildren, Caleb Roberts (Axia), Jenna Roberts, Amelia Braddock, Abby Cathcart, Reames Cathcart, Miller Braddock, Caroline Hanson, Chase Hanson; one great-grandchild, Aila Roberts; one brother, Ronald Holland (Mary); and numerous nieces and nephews whom she dearly loved.
Helen is preceded in death by three brothers, Charles, Johnny, and Thomas Holland.
The family would like to thank Dr. James T. Bell and Dr. Susan Reynolds; Hospice Care of South Carolina especially Shannon Bullard, Ellen Keifer, Rachel Stacey, Diane Watson, Tiffany Tyner, and Lacey Bowman; and special caregivers, Pat Blount and Lisa Kelley. They all showed great love and compassion to "Miss Helen."
In lieu of flowers, memorials may be given in her memory to West Hartsville Baptist Church, 1003 West Carolina Avenue, Hartsville, SC 29550.