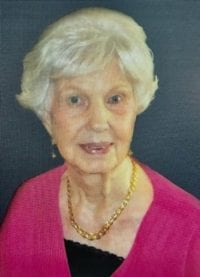 Frances Lawrence Skinner, 96, passed from this life to her eternal home on Friday May 28, 2021 dying peacefully at home surrounded by her family. Frances was born to Rufus Earl and Clyda Wiggins Lawrence in Elim, SC.
After graduating with a BA from Coker College, Frances moved to Charleston, SC working for the FBI and later as the Secretary for Citadel Square Baptist Church, where she met the love of her life, Dr. William Skinner. After their marriage in 1947, they made the decision to surrender their lives to fulfilling the Gospel of Jesus Christ and began their 38 year commitment to the people of Paraguay as full-time medical missionaries through the International Mission Board of Southern Baptist Convention.
Frances possessed many talents among which were organizing the Nutritional Services for Centro Medico Bautista in Asuncion, Paraguay in its earliest beginning in 1952 and working with the Christian Radio Broadcast Outreach in Asuncíon, Paraguay. For Frances, organization and administration were gifts that she expressed in many circumstances. Frances had a strong devotion to Bible teaching and led many classes, often under a mango tree. She had an amazing ear for music and became the music director playing the autoharp in the various outdoor worship settings, as she and her husband began churches and organized many prayer meetings and mobile clinics in Paraguay. Frances later became an accomplished harpist and developed her skill on the Paraguayan harp. It was Frances' literary skills that the events of their journey as missionaries were chronicled and later became the material for her book, Adventures in Paraguay. Frances worked tirelessly by her husband's side and often took on the role of nurse and health educator with him which earned her the honorable distinction, "Doctora," by the people they served in the remotest places in Paraguay.
Following their retirement from missionary service, Frances enjoyed traveling, teaching Sunday School, fishing and "catching the largest Walleye" on Eagle River, Ontario, and participating in the establishment of The Paraguay Baptist Medical Center Foundation with their dear friends, Neal and Gail Buchannan and many others.
Frances was preceded in death by her husband, William and her grandson William Lee Skinner; and is survived by two of her siblings, Dr. Charles Lawrence and Gene Morrison and her four children: Dr. Janice (William) Algea, Dr. William Lawrence (Laura) Skinner, Dr. Glenn Skinner, Peggy (Mark) Sims, and her 13 Grandchildren and their spouses, and 19 Great Grandchildren, and 3 Great-Great Grandchildren. She was cared for lovingly by Alice Grimes and Charlotte Watson, to whom her family is very grateful.
"Now there is in store for me the crown of righteousness which the Lord the righteous Judge, will award to me on that day- and not only to me, but also to all who have longed for his appearing." II Timothy 4:8.
Funeral services will be held at 10:00 a.m. Tuesday, June 1, 2021 at the Woodlawn-Roesch-Patton Funeral Home in Nashville, Tennessee. Burial will follow at Woodlawn Memorial Park.
Visitation will begin at 9:00 a.m. Tuesday at the funeral home.