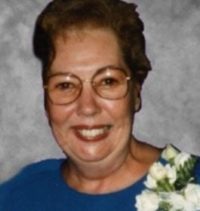 January 21, 1936 – January 11, 2018
Florence Knapp, age 81, passed away on January 11, 2018, at Franciscan Health Rensselaer-AlternaCare, Rensselaer, Indiana. Florence was born in Ft. Motte, South Carolina on January 21, 1936. She had resided in Rensselaer since June of 2017, also having lived in Salem, South Carolina and Crystal Lake, Illinois.
She graduated with the Class of 1954 from St. Matthew's High School in St. Matthews, South Carolina and attended Coker University in Hartsville, South Carolina. She was a reservations and ticket agent until 1961 for Capitol Airlines and United Airlines. Florence retired in 1989 from Black Dot Company in Crystal Lake, Illinois where she had been a customer service representative assigned to the Sears Catalog.
Florence attended St. Mary's Episcopal Church while living in Crystal Lake, Illinois. She enjoyed traveling, reading, history, sewing and playing bridge with friends. One of her greatest joys was visiting with her family.
On May 24, 1961, in Albuquerque, New Mexico Florence married Chauncey Grant Knapp, Sr., who passed away on July 14, 1984.
Florence is survived by her loving daughter, Charlotte Maureen Knapp (Carlos) Vasquez of Rensselaer, Indiana, loving grandsons John Grant Vasquez and Christian Emilio Vasquez, her sister Lilyanne Peterkin Inabinet of Hartsville, SC, nieces and nephew Ellen Kae (Bill) Dawkins of Greensboro, N.C., Susan Owings Inabinet of Huntersville, N.C. and William Franklin Inabinet of Columbia SC, two great-nieces Katie and Jorie and a great-great nephew, Nathan.
She was preceded in death by her mother Florence Louraine (Shuler) Peterkin Owings, her father John Alexander Peterkin, husband Chauncey Grant Knapp, Sr., son Johnny Owings Knapp on March, 16, 1972, and son Chauncey Grant Knapp, Jr. on March 14, 1976.
Services will be held 1 P.M., Saturday, January 20, 2018 at St. Matthews Episcopal Church in Ft. Motte, South Carolina with The Rev. Janet Echols officiating. The family will be greeting friends from 11:30 A.M. to 12: 45 P.M. in the Fellowship Hall prior to service. Burial will follow at 3:30 P.M. in West End Cemetery in St. Matthews, South Carolina. The Jackson Funeral Chapel of Rensselaer is honored to be assisting the family. You may visit www.jacksonfuneral.com to share memories and condolences. Arrangements in South Carolina will be handled by Dukes-Harley Funeral Home.
The family suggests memorial contributions be made to the Cystic Fibrosis Research Foundation, and/or the Arthritis Foundation or St. Matthews Episcopal Church in Fort Motte, at P.O. Box 447, St Matthews, South Carolina 29135.